Rachel Darvill is a Wildlife Biologist and the Project Manager for the Upper Columbia Swallow Habitat Enhancement Project.
Did you know that there are six species of swallow using habitat in the Columbia Valley? Swallows are aerial insectivores that eat a large number of mosquitoes, but bank and barn swallows are facing significant population declines. Join us to learn about these species, how to tell them apart, and also get tips on how you can create a bird friendly environment right in your own backyard.
Join Rachel and Wildsight Golden on April 14, 2021 at 11 AM, Mountain time.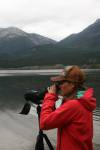 All presentations will be held on virtually on zoom. Registration is required, please register here.
The event is free, but donations would be gratefully accepted.
For more information, email golden@wildsight.ca
We are grateful for support from the following: