Join us for our annual general meeting and a presentation from biologist Andrea Kortello on wolverines in the Columbia Mountains.
Annual General Meeting: 7:00pm
Join us to look back at the past year, to celebrate our successes and to renew our commitment to making positive change in our communities in the year to come. Meet members of our staff and board and vote in the coming Board of Directors. The AGM will be a short 30 min, followed by a presentation on wolverines.
Wolverines in the Columbia Mountains: 7:30pm
An icon of the wild and one of the toughest critters you could ever encounter in the mountains, wolverines are in trouble. Wolverines need vast areas to roam and they depend on deep snowpacks for denning. Climate change, habitat loss and fragmentation and harvest rates are all having an impact on the wolverine. Currently, wolverines – Gulo gulo – are listed under the Species at Risk Act.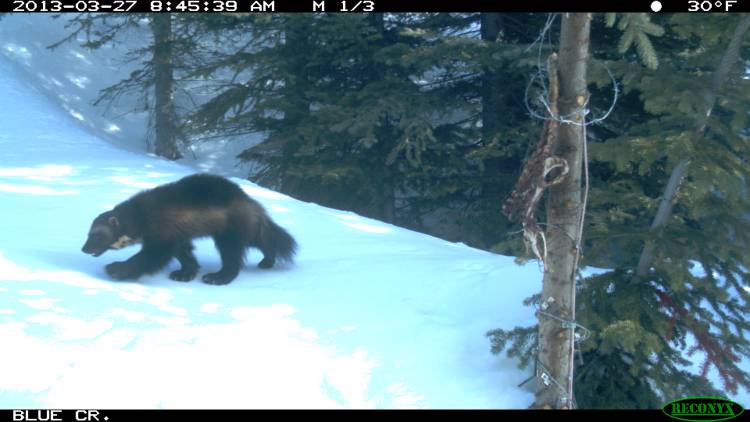 Andrea Kortello has been working on the Kootenay Wolverine Project since 2012, working to identify the current population dynamics of wolverines in the Columbia Mountains. Our current understanding of wolverine population dynamics is very low and her team's research plays a key role in driving forward effective conservation measures to protect the wolverine. Their main methodology is using DNA captured from hair collected at baited trees to detect presence and genetic diversity. Genetic testing gives a picture of the wolverine population as a whole, and allows scientists to put together a picture of the larger wolverine population and how connected or fragmented it is from other populations.
Join us to learn what her team has learned about the wolverines in the Columbia Mountains.
Bio: Andrea Kortello is the Project Lead for the South Columbia Mountains Wolverine Project. After more than a decade of tracking large carnivores and a myriad of other species around the Rocky Mountains, she moved to Nelson and launched the Kootenay Wolverine Project with Doris Hausleitner and has been pursuing the elusive wolverine ever since.