Travelling Top-Ups Mobile Refillery is trying to change the way people think about zero-waste living in the East Kootenays.
Lindsay Sackett, Owner and Operator of Travelling Top-Ups, will be speaking about how her mobile refill shop aims to make reducing reliance on single-use plastic more convenient and accessible for individuals, families, small businesses, and accommodations businesses. With experience in the waste management consulting industry as well as a passion for the health and wellbeing of the planet, Lindsay has hopes that the zero-waste movement will continue to grow and shift the way we live our daily lives, shaping a more sustainable future for all.
Note seating is limited for this event, register ahead or take your chance at the door.
Kimberley Event
Date: Tuesday, November 21
Timing: 6:30 pm presentation to begin, conversation to follow, end by 7:30 pm
Location: Biscuit: A Place to Sup (180 Spokane St.)
Cost: $5 per person, but please contact us if the price is a restriction (kimcran@wildsight.ca)
Cranbrook Event – CANCELLED
Date: Thursday, November 23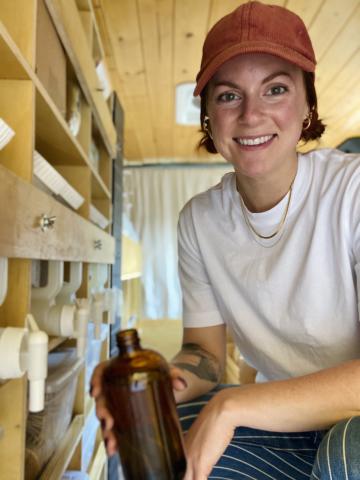 *DRAW PRIZE ALERT*
Lindsay will be offering a $25 gift card to one of the lucky attendees to get your zero-waste journey started (or add a little fuel to your fire). By attending the event, either in Kimberley or Cranbrook, your name will automatically be added to the draw and a winner will be selected upon the conclusion of both events. An email notification will be sent out to the winner.