Join the Creston Valley Branch of Wildsight for the 6th annual Wild and Scenic Film Festival, an evening of outdoor adventure, at the Prince Charles Secondary School Auditorium on Sat. Feb. 1, 2020. Show starts at 7:00 pm. At intermission there will be opportunity to talk to groups involved in outdoor recreation and education in our valley. Door prizes include two $100 gift certificates to MEC, outdoor gear and a bicycle tune up from Summit Cycles & Sports, canoe trips from the Discovery Centre and more!
Check out the Wild and Scenic website for more information.
Wildsight members: on-line $16.00, at door $18.00
Non-members: on-line $18.00, at door $20.00.
$10.00 admission with new Wildsight life-time membership ($20.00)
18 and under no charge.
Online tickets available until Friday Jan 31 at midnight. After that, get your tickets at the door!
---
Here is the line-up:
GENERATIONS (locally made film by Jason Fisher)
CREATURES OF CHANGE (locally made film by Perry Ditzler)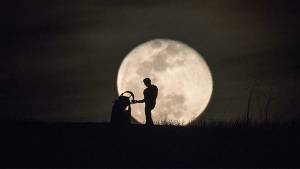 A NEW VIEW OF THE MOON
Become reacquainted with awe alongside strangers interacting with a telescope trained on the moon. Watch as Wylie Overstreet takes a telescope around the streets of Los Angeles to give passersby an up-close look at a familiar object: a new view of the moon.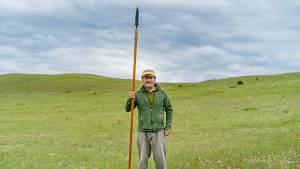 GRIZZLY COUNTRY
After serving in the Vietnam War, author and eco-warrior Doug Peacock spent years alone in the Wyoming and Montana wilderness observing grizzly bears. This time in the wild changed the course of his life. With the protection of Yellowstone grizzlies now under threat, Peacock reflects on the importance of habitat and why he continues to fight for wild causes.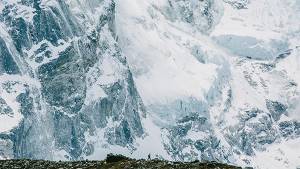 LOVED BY ALL – THE STORY OF APA SHERPA
Apa Sherpa has climbed Mount Everest 21 times, more than any other human. But he wouldn't wish this upon anybody. Having grown up in the remote Khumbu region of Nepal, Apa was forced to leave school and work as a porter at the age of 12. His dreams of being a doctor forever lost. It is a story all too common for the Sherpa people of Nepal, a story Apa aims to change with his work at the Apa Sherpa Foundation.
In this visually stunning short documentary, we follow young Pemba Sherpa, a young child who must walk six hours a day to attend school. Pemba's story is a present day reflection of Apa's past, one where the draw of being a high altitude porter conflicts with the dreams of Nepal's rural people, dreams made possible only through education and knowledge.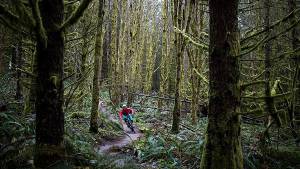 WHERE THE WILD THINGS PLAY
Friday night at the local watering hole and … where the ladies at? Answer: BASE jumping from high desert cliffs, performing tricks on slacklines, climbing granite routes, shredding singletrack, skiing backcountry lines and generally leaving you fellas behind. This rowdy ode to female athletes by Krystle Wright leaves no doubt about the state of women in today's outdoor world: badass.
CAMERA TRAP
Peter Mather is a teacher who started his career in the tiny northern community of Old Crow. It was there he developed a passion for the plight of the caribou and the people whose culture is tied to them. An aspiring wilderness photographer, Peter sets out on a quest to document the herd, its migrations, and the role it plays in communities across the north. But he needs one epic shot – the one that will capture the significance of the herd and inspire others to protect it. Camera Trap is an intimate portrait of Peter, exploring what is behind his obsession with protecting the Porcupine herd and the lengths he will go to get the perfect shot.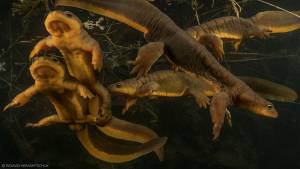 MARCH OF THE NEWTS
Follow one of the forest's funkiest creatures into a gangly gathering of amphibious affection… and learn how you can help protect these sensitive animals from an emerging disease.
Intermission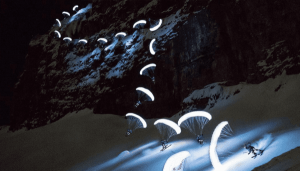 MOON LINE
When night falls on the mountains, it is by no means time to go to bed for Valentin Delluc. It's in the dark that one of the best speed riders in the world finds a whole new playground. Like a firefly, it illuminates the darkness…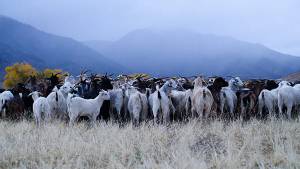 A FEW ACRES AT A TIME
Lani Malmberg, a self-identified "gypsy goat lady", brings life back to the land with her herd of 500 goats.
CLIMBING OUT OF DISASTER
In the immediate aftermath of Puerto Rico's Hurricane Maria, a group of local climbers bands together to use their skills and knowledge for the greater good of the community.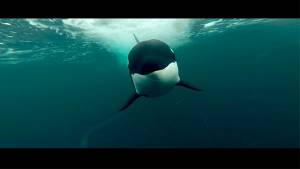 HEAR THE CALL
In Hear the Call: Salmon Nation, singer Ashleigh Ball of Hey Ocean! travels with filmmaker Josh Thome to the remote coast of British Columbia where marine biologist Alexandra Morton and First Nations Chief Ernest Alfred are on the front lines of a battle that will decide the fate of wild salmon and the entire coastal ecosystem that depends on them.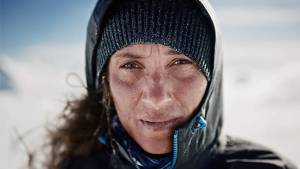 IN PERPETUAL MOTION
Surfers and free divers know well those dark, lung-searing seconds waiting to surface after a wave has pinned you to the ocean floor. It can feel like an eternity. In those underwater minutes, Australian adventure photographer Krystle Wright envisions herself in a desert with roiling grey skies and bootpacking a snowy ridgeline, her trusty Canon capturing the stunning dreamscapes. Vivid and ethereal, In Perpetual Motion is about the remarkable beauty revealed when time stands still for just a moment.
CARVING LANDSCAPES
WHAT DOES IT TAKE
What Does it Take? is the introduction to the New Environmentalists series. The New Environmentalists share a common goal, safeguarding the Earth's natural resources from exploitation and pollution. The series features portraits of passionate and dedicated activists around the globe who have placed themselves squarely in harm's way to battle intimidating adversaries for environmental justice in their communities. They are the winners of the San Francisco-based Goldman Environmental Prize, recognizing grassroots environmental activists from around the world.
You can find more information about the films here.
See you at the movies!