Traditionally summer solstice represents the midpoint of the solar year, a time of abundance, transition, and celebration. Symbolically, it embodies the triumph of light over darkness, enlightenment, connection to nature, and gratitude for life's fruition. The Summer Solstice is deeply rooted in nature's cycles. It represents a harmonious connection between the earth and the energy surrounding us. Solstice practices during this time often involve spending time outdoors, appreciating the beauty of the natural world, and honouring the interconnectedness of all living beings.
Join Wildsight Invermere's Executive Director and resident Reiki Master, Steph LaCoppola, for a transformative day of reflection, growth, and grounding. Start your morning with a soothing meditation practice, followed by group Reiki and a scenic hike around Lake Enid. This is an opportunity to connect, share stories, and let go of burdens that no longer serve us. During the hike, we'll pause to embrace moments of silence, fully present in the beauty of the natural world. To conclude the day, we'll gather for a Reiki circle and a grounding ceremony. Afterwards, feel free to enjoy a refreshing dip or paddle in Lake Enid.
What to bring:
A blank, yoga mat or pillow to sit on
Comfortable shoes
Lots of water
Sunscreen, hat, sunglasses
Any burdens or troubles you would like to let go of
A willingness to be open and share in a group setting
About Steph
Steph LaCoppola, a dedicated advocate for nature conservation and healing, serves as the Executive Director of Wildsight Invermere. With over 10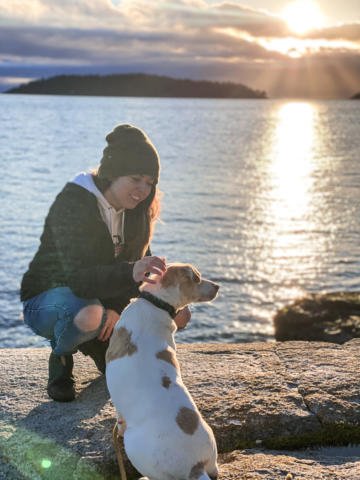 years of experience in Reiki practice and energy work, Steph brings a profound understanding of holistic healing to her role. Although currently based in Radium Hot Springs, BC, she has lived in various parts of the province as well as the country, allowing her to witness the diverse ecosystems and environmental challenges faced by different communities.
Steph holds a degree in Environmental Science, which has fueled her passion for working with various environmental non-governmental organizations (ENGOs) for the past three years. She has actively participated in numerous conservation and stewardship projects, striving to protect and restore the natural beauty of British Columbia. Before her work in the province, Steph lived in Ontario, where she worked as a naturalist guide and outdoor educator, sharing her love for the outdoors and inspiring others to connect with nature.
Outside of her professional pursuits, Steph's personal time is devoted to exploring the pristine backcountry with her two beloved dogs or embarking on tranquil river paddling journeys. These outdoor experiences further deepen her connection with the natural world and serve as a constant source of inspiration for her healing practices.
Combining her environmental background, extensive Reiki practice, and passion for holistic healing, Steph brings a unique perspective to Wildsight Invermere. Her profound connection with nature influences her approach to conservation and fuels her dedication to creating a harmonious balance between environmental stewardship and personal well-being.

Steph recognizes the importance of a conscious connection to nature and the significant role that plays in the healing journey, which is why she is only asking for a small event fee of $30 in donation to Wildsight Invermere per attendee. In honour of hosting this event on Indigenous Peoples Day, the event will be free for all Indigenous peoples to attend.
To register for the event please email invermere@wildsight.ca. Hurry as there is a limited number of spaces available!