Renowned bee scientist Lincoln Best is coming to Invermere! Lincoln's lively one-hour presentation on Friday evening will cover the habits and habitats of East Kootenay native bees. You'll also learn about a unique bee found only in Canal Flats, and have a chance to ask questions about honey bees versus wild native bees.
For those who want to know even more about our wild bees and how to create a bee-friendly habitat, please come to the day-long workshop on Saturday Oct 7. It includes hands-on activities such as looking through microscopes at different bee species and building a take-home native bee house.
The Friday night presentation at 7pm is by donation.
Need a ride to Wilmer? Contact us invermere@wildsight.ca and we'll help you get there.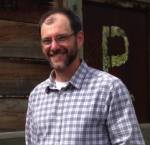 Lincoln Best has surveyed pollinator diversity in western Canada for almost 15 years and produced new data for more than 600 species while discovering new species in Canada. Lincoln studied Zoology and Ecology at the University of Guelph and conducted graduate research at York University on the geographical distribution and genetics of the bees of British Columbia. He has also led field teams through Central and South East Asia, observing native bees in more than 10 countries. Lincoln is passionate about floral/ bee relationships, especially the visitors to rare and unusual flowering plants in the Southern Interior.
Wildsight would like to gratefully acknowledge the support of Columbia Basin Trust for this event.