Wildsight Elk Valley is once again hosting the Fernie Fall Fair and we're celebrating with a festival that is as unique as our community! The Fernie Fall Fair is a grass roots public event that encourages people to bridge rural and urban living by promoting agriculture, recreation, household arts, and gardening. It is our goal to showcase healthy, farmstead living and promote the importance and achievability of sustainable food production in the Elk Valley.
Classic carnival games and games will be abundant! Get your team together for tug-o-war, your hopping legs ready for the sack race, find your perfect partner for the 3-legged race, your gums warmed up for a bubble gum blowing contest and more! AND of course get your taste buds ready for the Blue Ribbon competitions — pies, cakes, preserves and bread bragging rights will be contested for. The chili cook-off offers everyone a chance to try the best of the fest (hint, I love cornbread…) and of course Fernie's favourite Sunday event, the Fernie Mountain Market, and its amazing vendors will be providing the best of the harvest for you to take home!
Join us for the Fernie Fall Fair on the City Hall grounds (501 3rd Ave) where all sorts of fun like potato sack races, farmers market, apple cider demos, cake walk, workshops, chilli cook-off, agriculture demos and so much more will be happening. Keep your eyes open for upcoming info or to get involved please contact Courtney at (250) 423-3322 or email elkvalley@wildsight.ca.
Please click below for more info:
Volunteer opportunities for the Fernie Fall Fair are now open and the #ferniefallfair would not happen without the amazing volunteers that Fernie has! Please click here to go to the signup sheet. There are loads (81 to be exact) of volunteer roles that average 2.5 hours in length.To sign up, just follow the instructions on the page. It only takes a few seconds to do and we would be so appreciative! Thank you!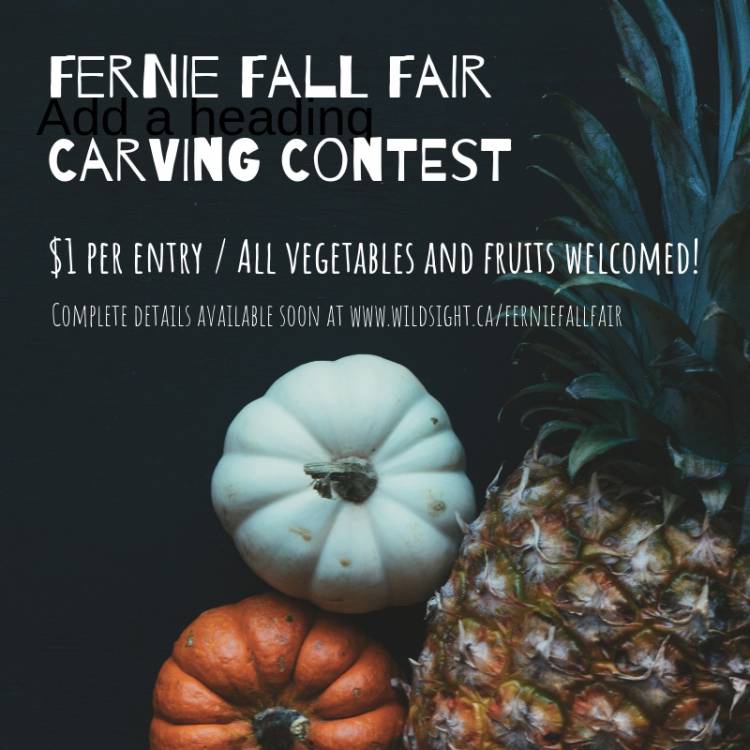 A big thank you to the 2019 Fernie Fall Fair sponsors!