DUE TO UNFORESEEN CIRCUMSTANCES, THIS EVENT HAS BEEN CANCELLED. IT WILL BE RESCHEDULED FOR THE FALL.
Take your interest in native bees and local flora to the next level! Join Lincoln Best (one of Canada's foremost native bee experts) in this special 2-day workshop to learn more about bumblebee and native bee biodiversity, and floral ecology, as well as habit restoration, landscape design and conservation strategies that we can implement to help our local bees thrive. Participants will enjoy hands-on activities, lively discussions and engaging presentations. Don't miss this great opportunity to learn more about nature's biodiversity.
Registration is $120 ($100 for Wildsight members) for the two-day weekend workshop, July 8 / 9, 9am-4pm.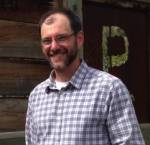 Lincoln Best has surveyed pollinator diversity in western Canada for almost 15 years and produced new data for more than 600 species while discovering new species in Canada. Lincoln studied Zoology and Ecology at the University of Guelph and conducted graduate research at York University on the geographical distribution and genetics of the bees of British Columbia. He has also led field teams through Central and South East Asia, observing native bees in more than 10 countries. Lincoln is passionate about floral/ bee relationships, especially the visitors to rare and unusual flowering plants in the Southern Interior.