Wild & Scenic Returns to In-Person… and Virtual!
Last year, the challenges of Covid-19 meant that the Columbia Valley's hugely popular film festival had to go virtual. This year, we're making the extra effort to make sure everyone who wants to be part of the Festival can. We're organizing BOTH in-person and virtual viewing options with our usual promise of thought-provoking films, inspiration and great door prizes.
This means that you – your friends, your family, even your dog! – can watch from your sofa (in your pyjamas), no matter where you may be. On the other hand, if you have a hankering for some face-to-face fun, you can join us in the Columbia Valley Community Centre for a Covid-safe in-person event! Due to provincial regulations, a limited number of in-person tickets will be available, so we recommend snagging them as soon as they go on sale on October 25.
As part of your fundraiser, we have an exciting line-up for an online SILENT AUCTION. Stay tuned for more info.
BONUS! Just like last year, a recording of the program will be available to all ticket-holders as VIDEO ON DEMAND until midnight on November 25, so you can watch it (or watch it again!) if you are joining us from a different time zone or can't be with us on November 20. And just like other years, there will be lots of DOOR PRIZES!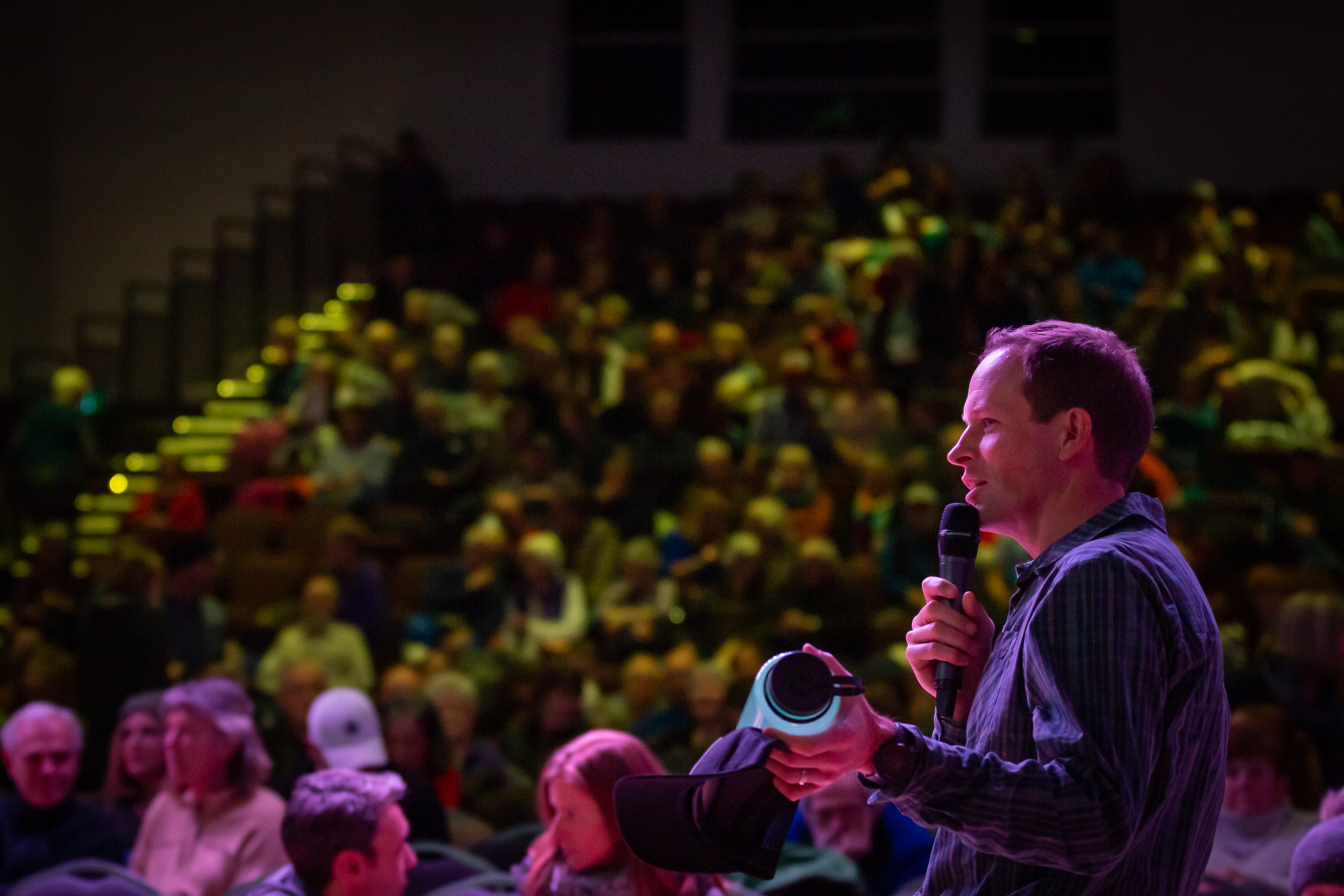 When combined together, our small actions create a big impact.
The Wild and Scenic Film Fest sits apart from hundreds of other festivals by leaving you feeling motivated to make a difference in your community. It puts our local work into the broader environmental and social context and serves to remind us that we're participants in a global movement.

Cam Gillies, Wildsight Invermere Director and Wild & Scenic MC
Program of 10 Awesome Films
Land Without Evil Throughout history, people have always been searching for a perfect place. This short film, based on Guaraní mythology (Tierra sin mal), offers another point of view on paradise: what if the real paradise is inside us and lies in the harmony and unity of everything alive? | 4 Minutes
Biodynamic Agriculture: Farming in Service of Life We chose to screen this film to support the efforts of Columbia Valley Food + Farm and our local farming community. You'll appreciate how the Biodynamic approach to agriculture, gardening, food, and nutrition can heal the land, influence our food systems and, in turn, nourish our health. Now go plant something! | 5 Minutes
Disappearing Penguins Penguins are not just charismatic animals. They are a keystone species in Antarctica and an important indicator of the health of the Antarctic ecosystem. Follow a team of scientists as it travels to Elephant Island, a remote island off the Antarctic peninsula, to find out how its penguin population is faring. The results from this research expedition made headlines around the world and contribute to the call for protection of Antarctica through large scale ocean sanctuaries. The film is narrated by Alison Sudol, actress, singer, and Antarctic ambassador for Greenpeace. | 15 Min.
Chasing Ghosts In its quest to identify the pollinator of the ghost orchid for the first time, a team of explorers, photographers, and filmmakers spent three summers standing waist-deep in alligator and snake-laden water, swatting mosquitoes, and climbing trees to dizzying heights. They came away with a startling new discovery – and an even deeper love for Florida's wildest wetlands – revelations that may help to conserve both the endangered orchid and its shrinking home. | 15 Min.
The Return Something astonishing is happening in Vancouver. Despite exponential growth causing the salmon run to collapse for decades, concerned citizens refused to give up. Rewilding in a city this size is almost completely unique. With a quiet, observing lens, The Return explores hidden enclaves of wilderness where tiny smolts shimmer beneath the water's surface. Their future is now in our hands. | 20 Min.
Matagi Mãlohi: Strong Winds The Pacific Climate Warriors, born out of the low-lying Pacific Islands, are an indigenous and youth lead movement who now have been on the front lines of climate change for decades — their rally cry is "we are not drowning, we are fighting." In their own words "Matagi Mālohi tells the story of our journey to uplift our people and shape a narrative that paints us not as victims of the climate crisis but as the leaders, the healers, the nurturers, the artists, the gardeners, the growers, the seafarers, and the navigators we are." | 3 Min.
INTERMISSION
Pathfinder: Life Beyond Fear A tale about the human spirit, Pathfinder: Life Beyond Fear, follows six world-class slackliners on a highlining mission deep into the Norwegian mountains to attempt something that has never been seen before: Walking a thin line, elevated in the vastness between two colossal cliffs, illuminated only by the mystical northern lights. | 10 Min.
A Walk Through the Land of 1,000 Hills Claver Ntoyinkima, a native park ranger, shares the secrets of Nyungwe National Park in Rwanda as he guides us through the forest. With almost 300 bird species, over 1,000 plant species, and dozens of large and small mammals, Nyungwe is one of the most biodiverse places in the world. Twenty-five years after the devastation of the Rwandan Civil War, the park is now one of the best-conserved montane rainforests in Central Africa. As Claver walks through the forest we uncover the origins of his conservation values and the history of an ecosystem that survived one of Rwanda's darkest periods. The film's director, Chema Domenech, won the 2020 Wild & Scenic Student Filmmaker Award | 11 Min.
From Kurils with Love Vladimir, a scrappy but aging Russian marine mammal biologist, unexpectedly hitch hikes aboard a boat filled with adventure photographers out of a desperate need to return to his science monitoring stations. His boat, 2 weeks prior, was lost to the explosion of the Raikoke volcano. He is on a mission to help fulfill his quest to understand and protect the Kuril Islands before his age fails him, and so together the team sets out in one of the most remote and accessible volcanic island chains in the world to help Vladimir. | 24 Min.
A Mother's Love In 2020, life came to a grinding halt. Hopefully, in the resultant silence we are able to hear that our planet's whispers have become screams. A Mother's Love, a spoken word piece by actor and activist Lena Georgas gives voice to those hopes. | 3 Min.