The Rocky Mountain Bighorn Sheep of the Columbia Valley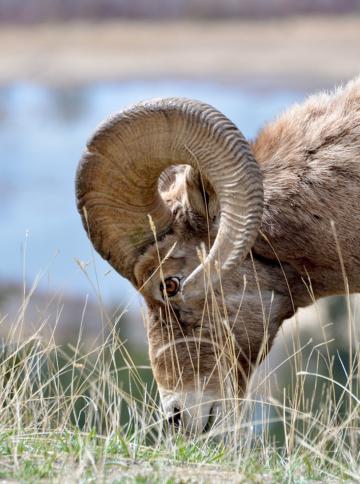 The Rocky Mountain bighorn sheep is the largest wild sheep inhabiting North America, with the population expanding to 38,000 sheep, with 15,000 of those residing within Canada— British Columbia, specifically. The Rocky Mountain bighorn sheep population is distributed in herds along the Rocky Mountains Range of the East Kootenay Region between the Kicking Horse River and the U.S. border. Unfortunately, there has recently been a rapid decline in sheep numbers. Bighorn sheep population estimates since the mid-1980s within the East Kootenay Region have ranged from 1,700 to 2,500 sheep, with a peak in 2010 followed by a steadily declining trend. This population decline has resulted in the Rocky Mountain bighorn sheep becoming a Blue-listed species of British Columbia.
The decline of the native sheep population is a direct result of a highly infectious pathogenic bacterium commonly referred to as M.ovi (Mycoplasma ovipneumoniae). Movi has been spreading rapidly throughout the province of British Columbia due to the loss of essential bighorn sheep habitat because of things like forest encroachments and herd displacement. It is important to note that M.ovi is most commonly found in domestic sheep and goats which is why monitoring, outreach, support and education for caprinae farmers and hobbyists alike is imperative to the survival and sustainability of the Rocky Mountain bighorn sheep.
The Columbia Valley, is home to two very notable sheep herds, one residing in the town of Radium Hot Springs and the other within the Columbia Lake District. Every 3-5 years aerial surveys are conducted across the East Kootenay Region, however, the Columbia Lake herd is difficult to survey aerially due to its close proximity to the town of Canal Flats, leaving gaps in knowledge about the health of the herd and its seasonal migration and movement patterns. With the combined work of Irene Teske, Wildlife Biologist for the Government of British Columbia and Wildsight Invermere it is believed that monthly on-the-ground monitoring of the sheep is essential to the preservation of the Columbia Lake herd.
Why it is important?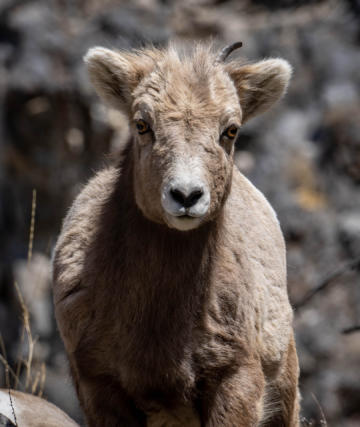 Our Rocky Mountain Bighorn Sheep Conservation & Biodiversity Program seeks to create a sense of unity and collaboration among community members as we embark on a collective effort to gather crucial monitoring data that will greatly enhance our understanding of these majestic creatures. By closely monitoring the bighorn sheep herd, we can unlock valuable insights into their migration patterns, spatial movements, and
overall well-being. This information is essential for developing effective conservation strategies and management plans that will ensure the long-term survival of the bighorn sheep population
Migration pattern information collection is vital because it dictates how the sheep navigate their environment, utilize resources, and respond to changes in their habitat. By studying these patterns, we can identify key corridors and areas of importance for their survival, enabling us to prioritize conservation efforts and mitigate potential threats. Understanding the spatial movements of the bighorn sheep is equally important as it allows us to assess their habitat preferences, identify critical foraging and resting areas, and evaluate the connectivity between different populations. This knowledge helps us develop informed land-use plans and establish protected areas that cater to the specific needs of the bighorn sheep.
Moreover, monitoring the overall well-being of the bighorn sheep provides valuable information about their health, reproductive success, and population dynamics. This data assists in identifying any potential risks or diseases such as M.ovi that may impact the herd and enables us to implement appropriate measures to safeguard their long-term viability.
Community Engagment
By engaging the community in this project, we recognize the importance of collective action and inclusivity. We believe that by fostering a sense of stewardship and shared responsibility, we can create a lasting impact on bighorn sheep conservation. Through collaborative efforts, we encourage community members to actively participate in data collection, monitoring activities, outreach campaigns & weed pulls. This involvement not only empowers individuals but also fosters a deeper connection with the natural world and the need for its protection.
The Rocky Mountain Bighorn Sheep Conservation & Biodiversity Program is not just about gathering scientific data; it is a celebration of the unique beauty and diversity of the Columbia Lake ecosystem. By coming together, we can ensure that future generations have the opportunity to witness the awe-inspiring sight of bighorn sheep roaming freely in their natural habitat. Join us as we work towards a sustainable future that harmonizes the needs of both humans and wildlife.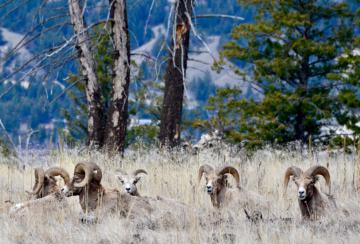 Getting Involved
Wildsight Invermere encourages community involvement through our citizen science-based volunteering program. Citizen science is a collaborative approach that engages ordinary individuals in scientific research and data collection. It empowers community members to contribute their time, knowledge, and enthusiasm towards meaningful conservation efforts.
By participating in the program, volunteers actively contribute to the project's objectives. They can assist in monitoring activities such as observing and documenting bighorn sheep sightings, recording behavioral observations, and collecting data on habitat use and invasive species presence. This data helps identify areas for weed pulls and promotes effective conservation practices.
Invasive non-native plants pose a threat to native flora, particularly in winter ranges crucial for bighorn sheep survival. To address this issue, Wildsight Invermere collaborates with the East Kootenay Invasive Species Council (EKISC) for regular weed pulls.
Volunteers involved in citizen science become ambassadors for the project, spreading awareness and knowledge within their communities. They play a crucial role in inspiring others to appreciate and support conservation initiatives, leading to a broader and more informed public engagement in wildlife preservation.
For available volunteer opportunities please check our Volunteer With Us page.