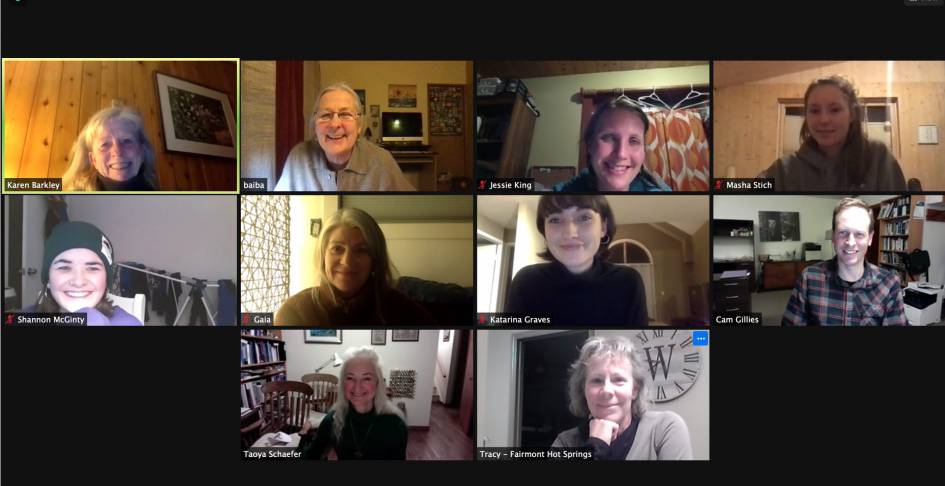 Wildsight Invermere Team, January 2021 (L-R; top-bottom): Karen Barkley (Branch Manager), Baiba Morrow (Chair), Jessie King (Secretary), Masha Stich (Youth Rep), Shannon McGinty, Miel Dubielewicz (Treasurer), Kat Graves (Climate Change Resilience Coordinator), Cam Gillies (VP), Taoya Schaefer (Director), Tracy Flynn (Director)
The Wildsight Invermere Branch keeps strong because of community participation by passionate people. The Board of Directors and team members meet monthly. There are many ways to become involved. If you are interested in volunteering on the Board of Directors or are curious about what it is like, please contact invermere@wildsight.ca or call the office 250.341.6898.
We gratefully acknowledge funding from Eco-Canada for the 8-month internship position for our Branch's Climate Change and Resilience Coordinator, Kat Graves.
Our 2021 AGM is scheduled for April 27 on Zoom.
2019 Wildsight Invermere Branch Annual Report.
Our financials from our April 28, 2020 AGM:
2020 AGM Financials – Profit and Loss YTD Comparison
2020 AGM Financials – Balance Sheet Comparison
Wildsight Invermere is a BC-registered society. #S-38135