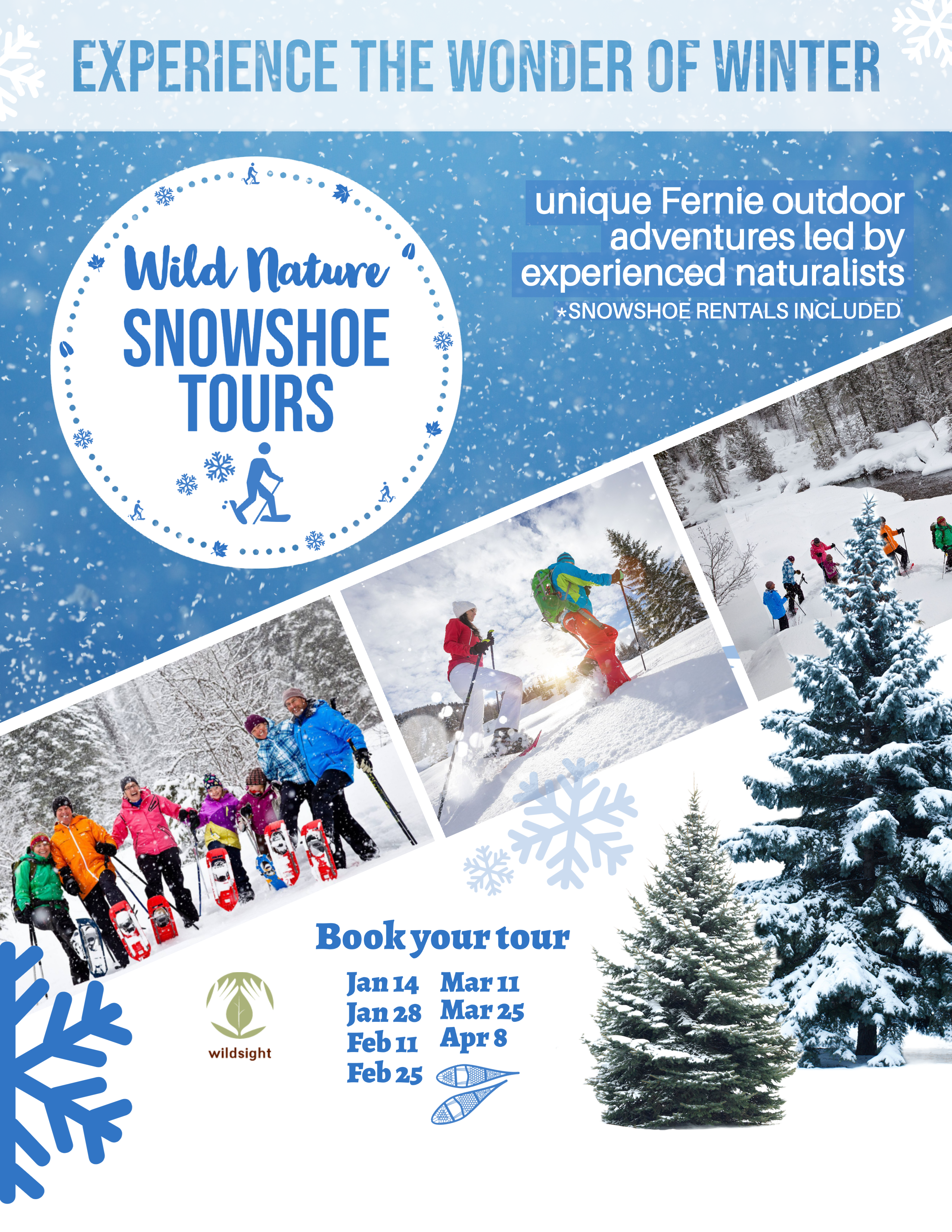 Discover the unique natural history and seasonal scenic beauty of the Elk Valley on an educational snowshoe tour through a beautiful forest with gorgeous views, an invigorating winter hike to one of our favourite local spots or a family-friendly excursion on some of the local trails.
Led by professional naturalist Lee-Anne Walker and nature education specialist Ayla Bennett, these summer and winter tours are geared to get you outside and learn about all of the amazing things we have in our own backyard in the Elk Valley. With outings exploring the best of the the Fernie area there is sure to be something for everyone!
Winter Wander Snowshoe – Discover the secret ways wildlife survive winter on this snowshoe through Fernie's only protected area. 2.5 hours – moderate effort. Local naturalist guide, snowshoes, snacks and drinks provided.
Adults: $57.00
Children (12 years old and under): $30.00
Register for this Tour:
For the Love of Winter – Moonlight sparkles off the snow and guides Valentine snowshoers through a winter wonderland. Lovers of winter, with your special someone, enjoy an evening of amour, chocolate and rosy cheeks. 2 hours – moderate effort. Local naturalist guide, snowshoes, chocolate fondue and hot mulled beverage provided.
Adults: $70.00
Register for this tour:
Thanks to Tourism Fernie for the great video of snowshoeing in Fernie Provincial Park! For more info on all things Fernie visit Tourism Fernie at www.tourismfernie.com.
Contact us at elkvalley@wildsight.ca
Phone: 250.423.3322 or visit us at the Local store at 632 2nd Avenue in Downtown Fernie.
Ingredients Promised: breathtaking scenery, wildlife, relaxing pace, entertaining stories, laughter, tasty treats, fascinating facts, safety and new friendships.