SELLING AT LOCAL
Local provides a retail framework for farmers and local food producers to bring their products to market in Fernie. Local provides customers the opportunity to access local food both online and in-store.
Join our Local family of vendors

Local offers:
Storefront – A staffed retail location in downtown Fernie at 632 2nd Ave
Online Market – Website, online store and online payment system wildsight.ca/local
Distribution Hub – Fulfillment of online local food orders for customers via delivery or pickup.
Local is a social enterprise of Wildsight Elk Valley. Our model is different to what you will see in other conventional food stores. We aim to support small local producers by renting shelf space to each producer, and then all sales (minus 10% processing fee) is paid to the vendor at the end of each month. This keeps more money flowing into the pockets of producers and farmers.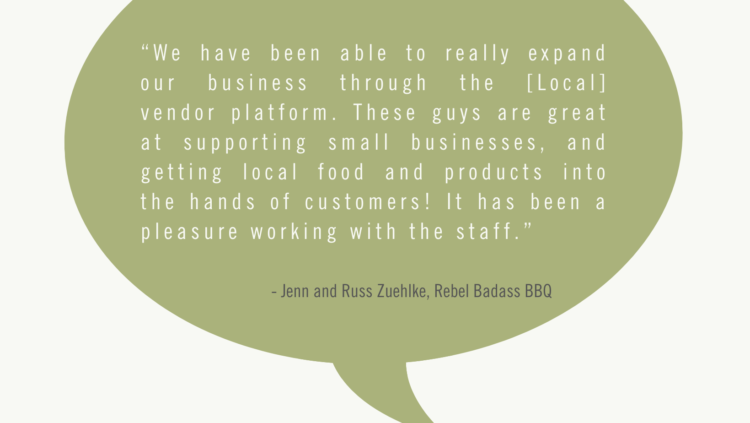 Local:
Provides a physical and online retail store that brings local people and local products together
Partners with Mountain Market to offer year-round access to local food in Fernie
Works with local farmers and food producers to increase the amount of local food available in Fernie
Provides a low-barrier entry for local producers
Is staffed by volunteers, with a paid coordinator position to oversee the operation

How does Local help local food producers?
Year-round, downtown storefront in Fernie to sell your produce & products without having to be there
Access to a wider customer base
Increased marketing, promotion, and awareness of your local products
Support in utilizing the online platform used for online shopping
Participation in 'meet the producer' info and tasting nights (when health restrictions allow)
One-stop-shop for Fernie deliveries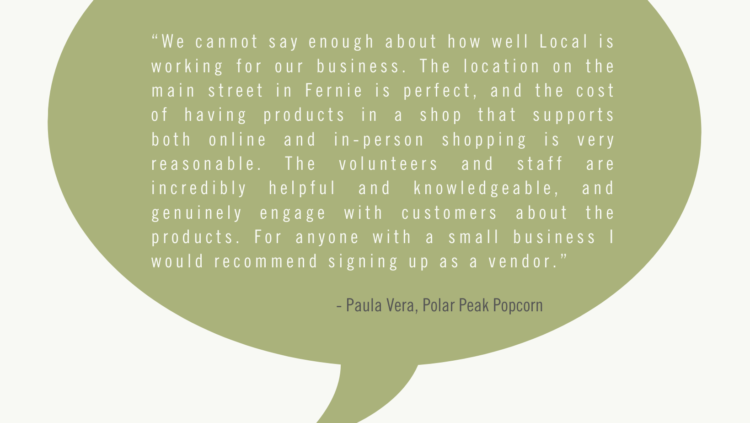 HOW much does it cost to vend at Local?
Our Vendor Agreement outlines the costs and other details.
Note: The vendor agreement is also where you will find the size and specifications of fridge and freezers if you need one.
HOW do I become a vendor?
Register – Complete the online Registration form
Review – Thoroughly read our Agreement
Sign & Send – Send your signed Confirmation to local@wildsight.ca
Send your permit – Food producers also need to email their food permit from Interior Health or Alberta Health to local@wildsight.ca.
Send e-transfer – Pay your quarterly fees via e-transfer to Please email elkvalley@wildsight.ca. You will receive an invoice once you have completed steps 1 to 4.
Load your products online – Upload your products into our online inventory system. Learn how in our Local Vendor Guide.
Please email local@wildsight.ca if you need help or have questions about any stage of our registration process.
WHEN can I get my products into Local?
There is a quarterly intake of new vendors.
Vendors commit to a minimum of 3 months at a time (Jan-March, April-June, July-Sept, Oct-Dec)
Vendors must complete all 5 steps listed above before the 15th of the month prior to be included in the following quarter (March 15th, June 15th, Sept 15th, Dec 15th).
Contact us to discuss joining the store outside of these quarterly intakes.
Can I sell non-food items at Local?
The focus of Local is on food, with a minimum of 80% of the products sold at Local being food. Any non-food item will go through a quarterly jury review. Please email local@wildsight.ca with information about your product if you want to have your non-food item considered. Non-food items are prioritized by the amount of local materials used, relation to food use and it is produced locally.