Kickin Joes
Location: Creston, B.C.
Distance: 115 km
Website: https://kickinjoes.weebly.com/
Kickin' Joes is committed to providing premium quality spices.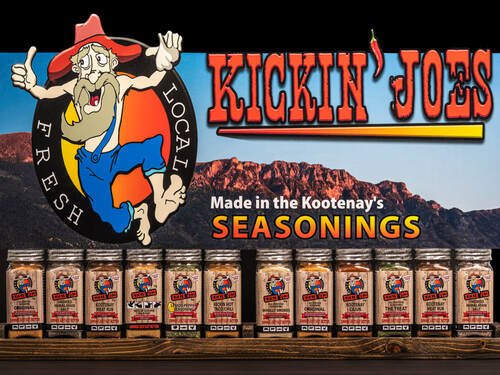 They are dedicated to using fresh and local ingredients, grown in the Creston Valley.

All Kickin' Joe's products are Gluten Free. Does contain mustard.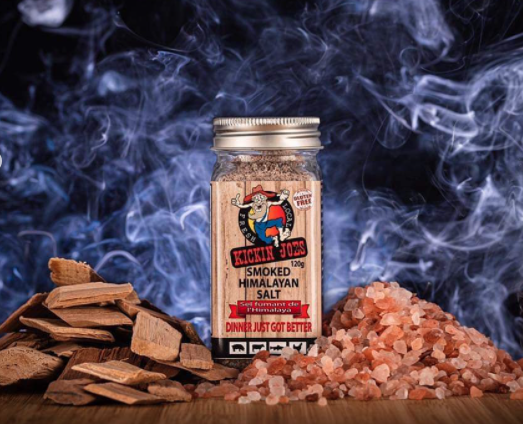 They personally mill, blend, and package their products on-site to ensure that they are sold at the peak of their freshness.
Spice Descriptions
Original: A garlic lover's delight with a PERFECT blend of garlic, onions, sweet red peppers, chili peppers, paprika, Himalayan salt, cane sugar, and spices.
Kootenay Meat Rub: With a perfect amount of paprika, brown sugar, garlic, onion, coffee, celery salt, and 11 more spices, if your target is a meat dish… this blend is the go to for BBQ's and fry pans!
Kootenay Cajun: Sweet paprika, onions, celery salt, black pepper, chili peppers, brown sugar, herbs and spices, make up this very complex and unique blend. Dark coffee is just one of the ingredients that make this a very popular seasoning.
Wild Game Blend: A perfect blend with garlic, onions, sweet red pimentos, chili peppers, smoked Himalayan salt, cane sugar, and specially selected spices are the ingredients that were formulated for your wild meat dishes. This is great on all meats including fish.
Wholly Smokes: Want to Spice up your life?… but not too much to take away from the perfection that the garlic, onion, sweet red pimento, salt and spices created. A nice heat full of flavours!
The Treat: Parsley, garlic, sweet red pimento peppers, smoked Himalayan salt, chili peppers and select spices, will transform vegetable dishes to gourmet results, at the shake of a bottle. Baked potatoes? Oh Yes!
Lemon Pepper Seasoning: A favourite seasoning for poultry and fish dishes brings this blend. Lemon peel, parsley, sweet red peppers, onion, garlic, and smoked Himalayan salt are a perfect combination.
Kickin Hot Taco/Chilli: Locally grown garlic, red peppers and chili peppers, with the small but perfect amount of smoked Himalayan salt, make this blend a favourite addition to many dishes.
Smoked Himalayan Salt: A special smoking process was developed, which takes Hickory wood chunks and Himalayan salt, and nothing else, and achieves an instant natural smoked flavour! Perfect on your favourite steak!