Share a Tree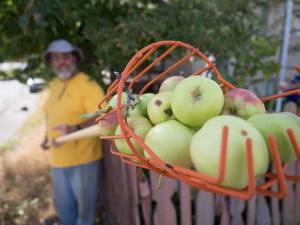 Below is a list of fruit trees in the Elk Valley that may have fruit available for picking. If you know of more trees requiring harvest, please register here. Furthermore, if you find out that a fruit tree that has already been picked or is no longer producing, please let us know.
---
These trees are free and available for anyone to go and harvest from! Please help us to reduce waste and wildlife attractants by harvesting whenever and whatever you can, and receive a bonus: the ability to make apple juice, sauce, and baked goods for you and your family! If you are collecting a harvest in someone's yard, it is good practice to offer the owner some fruit in return.
PLEASE BE SURE TO CONTACT THE PERSON LISTED BELOW BEFORE GOING TO PICK TO ENSURE THEY STILL WANT THEIR APPLES PICKED. THERE IS A CHANCE THAT THE HOME MAY HAVE SOLD OR OTHER CHANGES THAT MAY NOT BE UPDATED ON THIS LIST.
Name
Contact Information & Location
Tree Type
Special Notes
Amos Kahane
kahanedds@gmail.com
642 4th Ave, Fernie
Crab Apple
Tree will be ready to be picked by mid-August 2018
Nattalia Lea
nattalialea@gmail.com
1022 11 avenue Fernie
Apple
Tree will be ready in the next week or so. I am happy to fwd a pic and the apples are very good quality and tasty.....could be sold at market. I do not live at this address permanently however full access to the tree is granted to the person doing the picking. Thank you!
Jason Adams
jay_adams13@hotmail.com
Apple
Tree is starting to produce apples to be picked now. Please email for address in Sparwood.
Mary Taylor
153 Pine Ave, Sparwood
250-425-6598
Apple
The apples are high, so will need to picked by ladder or Apple picking tool, Apples are ready now!
Allie
1381 Colclough Ave, Fernie
250-430-1311
Apples, plum, crabapple
6 Apple trees, 1 crabapple and 1 plum tree and they are all ready to be picked now.
Gail Reeves
89 Ridgemont Drive
250.423.9609
Apples
Falling off tree now and good-to-go.
Pat Moore
3715 Vanlerberg Road, Fernie
goofygolfer@shaw.ca
Crabapple
Apples are ready now.
Amber David
5634 Vanlerberg Rd, Fernie
tofino@chrisdavid.com
2 Apple trees
Ripen mid-September
Jacqueline Arling
37 Park Crescent, Fernie
403.667.9766
Apple tree
September
Tanya Currie
661 3rd Ave, Fernie
tanyaian23@gmail.com
Apple tree
Late August