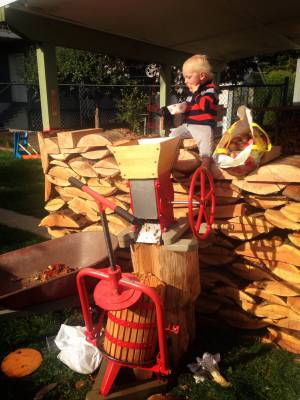 The East Kootenay is home to many fruit trees. When the fruit is left to fall off the trees and rot, it attracts local wildlife—including deer and bears. Wildsight's Apple Capture is here to help you keep up with your fruit harvest or to share it with someone who can. Together, we can turn a wildlife attractant into healthy local food.
Here's how you do it:
Tree Share Board
Got Apples? Want Apples? Our Tree Share Board is the place to connect. If you have a fruit tree that you just can't keep up with or if you want to find some trees that need picking, this virtual space is for you!
Apple Harvest Equipment
You can use apple capture equipment to pick, juice, sauce or dry your harvest – and to prune your trees. We have juicers and grinders, dehydrators, sauce making kits, and apple peeler / slicer / corers, plus picker.
Access this equipment from our Tool Share Program. Creating an account on our booking platform is easy and only require a $20 membership to help us with maintenance.
Fruit Waste
If you are pressing apples, the pressing leftovers can be used for animal feed or composted at the RDEK transfer station.
Report it!
Know about a tree that could attract wildlife?
FERNIE: Contact Bylaw Services at (250) 423-6817 or bylaw@fernie.ca
SPARWOOD: Bylaw Enforcement Officer at (250) 425-6271 or bleo@sparwood.ca
Report wildlife sightings. Contact Wildsafe BC or call: 1-877-952-RAPP
Questions?
Fernie: elkvalley@wildsight.ca or call 250-423-3322.