When I reflect on the last year, I see the strength of a deeply rooted organization that was able to adapt, pivot and thrive in spite of the global pandemic. We face increasingly urgent crises — an unparalleled biodiversity crisis, a climate crisis that threatens to destabilize earth's natural systems and a global pandemic that has brought the world to its knees. Locally, we are seeing increasing selenium pollution in the Elk and Kootenay Rivers, clear cutting of our old growth forests, declining wildlife populations. I find hope in the power of our collective action and in the resilience of nature. And I find strength in the Wildsight community, working to make change in our communities and protect nature.
This year, we celebrated the end of a 30-year saga when the Ktunaxa announced the Qat'muk Indigenous Protected and Conserved Area (IPCA) to protect the grizzly spirit and bears of the Jumbo Valley. For 30 years, our communities rallied against the proposed four-season ski resort through protests, monitoring camps, photo contests, a Patagonia feature-length documentary, even a four-part symphony performed on a glacier. What began as an issue that divided our communities emerged as an issue that brought us together, that built bridges between Indigenous and non-Indigenous communities, that united us behind our shared values and our commitment to defend this wild place. The Qat'muk IPCA will be a model of what we can achieve through conservation that is guided by indigenous leadership. We can't wait to see Qat'muk protected forever.
We have an opportunity to come together as a community and create a different future, to protect nature, to take real climate action, to inspire our youth about the magic and importance of nature. We have seen that our actions make a difference and this year we saw real progress on a number of important issues, but there is still so much more to do. Our voices matter, our actions matter — together, we can make a difference.
Thank you for standing with us to create a world where nature and humans thrive and to find solutions for the challenges we face.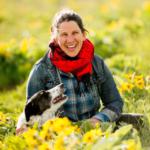 Robyn Duncan
Executive Director