Columbia Park Elementary students are on a year-long journey to learn about our ecological footprints, and how we can lighten that load.
Wildsight's Beyond Recycling program, offered in schools across the Columbia Basin, equips students with the knowledge needed to make important decisions for our planet. Through Beyond Recycling, the Grade 6 students in Kiah Davidson's class explored the lifecycle of products, beginning with raw materials, all the way through to how products are produced, distributed, consumed and ultimately disposed of.
"This has been an engaging and surprising process, with many students now questioning alternative options that are more sustainable and able to have another use. It has also promoted some insightful discussions and changes in behaviour based around how we consume these products," shares Wildsight educator Jess Booth.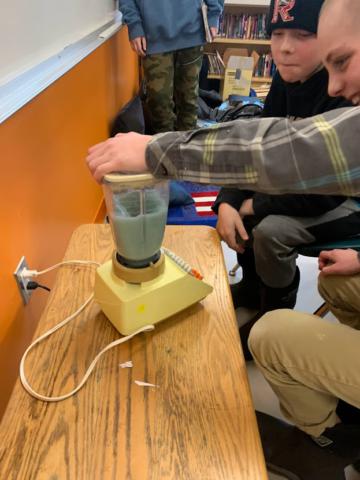 As part of the 10-month program, the students got to learn how to make paper from recycled materials! Desks became various stations of a production line, while machinery and equipment, including blenders, strainers, soaking tubs, pressing cloths and rolling pins, replaced pencils and workbooks. They learned to process the raw materials (recycled paper), breaking it down into smaller pieces and sorting it into different colour groups. Once sorted and broken down, the paper was soaked in a blender with some cornstarch, then smoothed into a frame built over a strainer. The paper was then dried and rolled, with students adding a selection of naive and locally harvested plant seeds to the beautifully handcrafted paper. The paper was later made into Valentine's Day cards!
Jess says the students took to the learning with enthusiasm and interest, and walked away with a deeper sense of appreciation for reusing what was old, and making it new again.
"Beyond Recycling is an important and incredible opportunity for students and myself to learn more about the world around us, especially locally," says Jess. "It is such an interactive and engaging program, where students can see relatable examples and have experiences they can draw deeper meaning and understanding about."
She adds that these students have been determined and courageous in enacting changes when they learn about their own impact on the planet.
"That gives me so much hope," she reflects.
To learn more about this Wildsight Environmental Education program, visit www.beyondrecycling.ca.