In late June, we said goodbye to Bryan Duffett, Manager of Finance and Administration, brought on Claudia Goodwin to fill the role, and welcomed back Tamara Mercandelli as bookkeeper.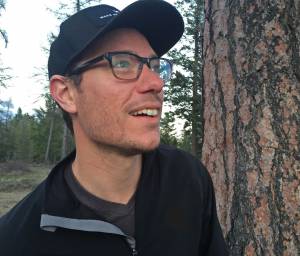 Managing money, contracts and administrative needs isn't as public-facing or glamorous as being a campaigner in an environmental organization, but it is just as important. For the past five years, Bryan has been my right hand man, supporting Wildsight's financial and administrative needs with skill, calm and oftentimes an hilarious joke to lighten the mood at just the right moment. He was a shot in the dark — hired after a Skype interview that just felt right. I kept thinking to myself, he has to be too good to be true, but when he moved to town a month later and walked in the door, he instantly became a key part of our community.
Bryan brought a new calm and order to our finance and administration team and over the years made huge contributions to our financial decision-making and administrative systems. He may not have been publicly visible, but he was always there, helping to steer the ship. So, here's to you, Bryan, for all you contributed over the years — thank you!
But as one door closes, another opens, and we were very happy to welcome Claudia Goodwin to the team as our new Manager of Finance and Administration. A CPA, Claudia brings a wealth of experience from the business, First Nation and non-profit sectors. A local Kimberlite, Claudia has deep roots in the community and is a wonderful addition to our team.
We were additionally thrilled to welcome back Tamara Mercandelli to the team as bookkeeper and administrative support wizard. Our former Administrator of 5 years, Tamara stepped away to realize her dreams of running a local food restaurant, which she did as a co-owner of SoulFood in Cranbrook. Life takes you on many journeys and we are thrilled that she ended up back with us.