The Kimberley Farmers' Market has come to a close after another successful summer season. Wildsight Kimberley Cranbrook started the farmers' market in 2014 to provide community members with direct access to local, sustainable food and art. This year, the market ran on Thursdays (5 – 7:30) from June 16 to September 15. At the Kimberley Farmers' Market, local residents and visitors alike could find a diverse range of produce, food products, art, and live music provided by local vendors.
The market will return in the summer of 2023. Until then, and given the benefits of buying local food, you might be wondering how to continue supporting the local vendors from this vibrant marketplace. With that in mind, we invited vendors to tell us how and where to continue finding their produce and food products. Here's what we learned!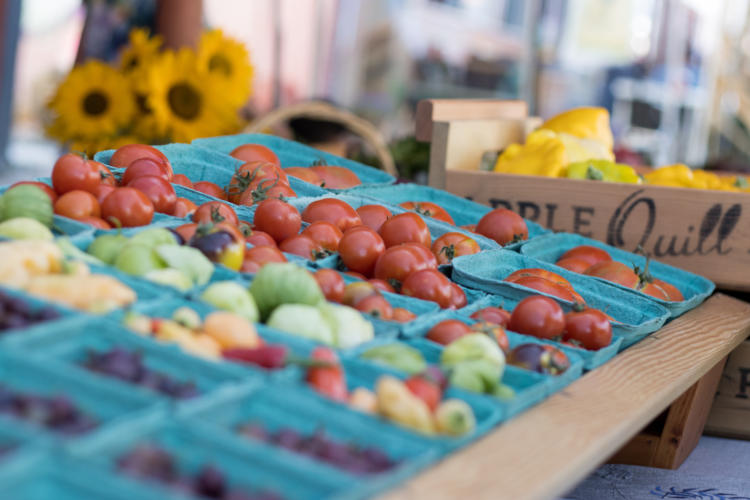 Apple Quill Farms is a family-run farm located between Kimberley and Cranbrook run by Michael Albert and Marie-Eve Fradette. Their eggs are available for pick-up On-Farm Tuesdays, and at Grace's Cafe and Bread and Butter in Kimberley. Some greens and seedlings are available On-Farm throughout most of the winter and spring.
Call or text (250) 581-1180 for more information.
"Local food means that we focus on varieties of berries, tomatoes, and other produce that taste the best rather than fruits and veggies that have to travel well and look good at the grocery store," Michael says. "It allows a farmer to prioritize sustainable practices and a living healthy soil over meeting the demands of a larger, more remote food market."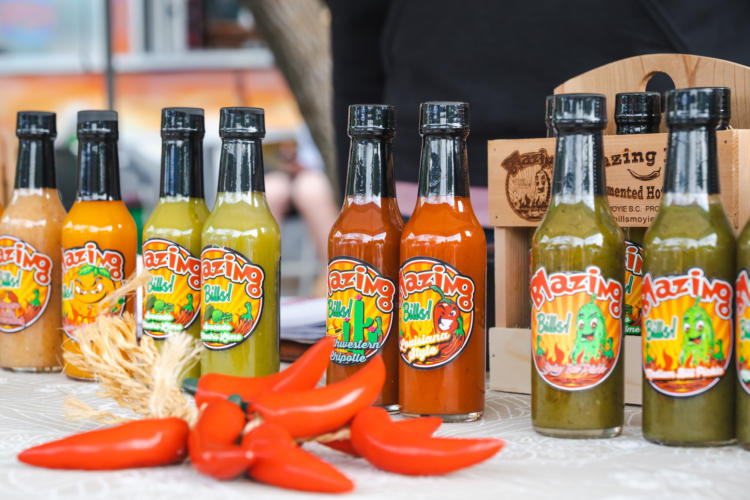 Spice up the cold season with Blazing Bills Fermented Hot Sauce, which are made in Moyie by stay at home mom Billi-Jo Conroy. Her hot sauce flavours include Avocado Cilantro Lime (mild or spicy), Bill Pickle (mild, medium, or spicy), Habanero Garlic Horseradish, Habanero Orange Ginger, Tropical Habanero, Louisiana Style, and Southwestern Chipotle.
Keep an eye out for their logo in the condiment section at select Kootenay stores including Sprout Health Market, Peppergrass Coop, Morchella Market and Cafe, Cranbrook HIstory Centre Gift Shop, Cranbrook street liquor store, and Moyie General store.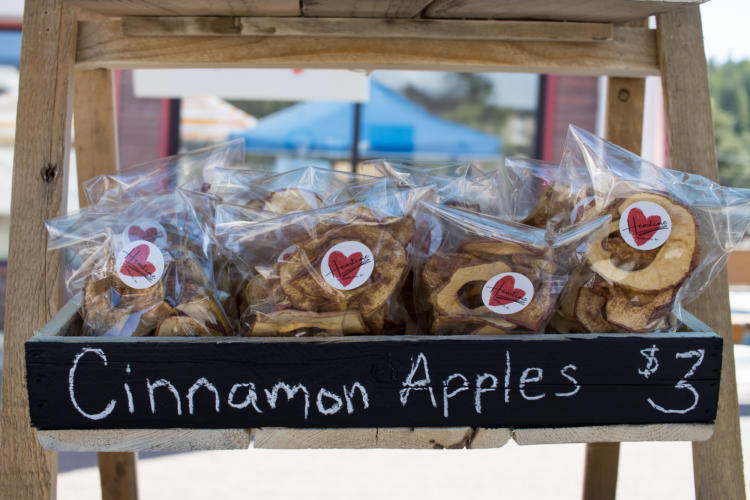 Heartcore is on a mission to make delicious and healthy food more easily accessible. The business was inspired by owner Stephanie Bazley's own health journey and commitment to improve her lifestyle by eating plant based, whole, non-processed foods. Products range from salted licorice and leather roll-ups to dried apples and cookies that come in a variety of flavours.
Visit www.Heartcore.ca or contact Stephanie at heartcorekimberley@gmail.com / (250) 464-5900 to place a custom order. You can also follow Heartcore on Instagram!
"I believe that buying local builds community," Stephanie shares. "Not only does it form and grow relationships, buying local also creates awareness around the skills others have and the resources available in the community."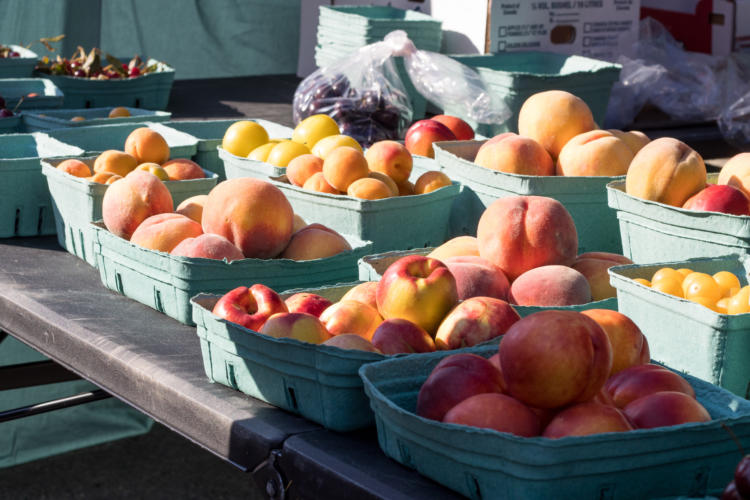 If you find yourself at Fort Steele, be sure to stop by Norbury Creek Farm! You can expect to find farm fresh eggs all year round. Depending on the season, you'll also find delicious produce. You'll find garlic, tomatoes, cucumbers, onions and other veggies available in the late summer. Squash and pumpkins will also be available come fall.
The farm is located at 3075 Wardner/ Fort Steele Rd., Fort Steele. Follow them on Facebook to see what's currently available or call (250) 417-9854.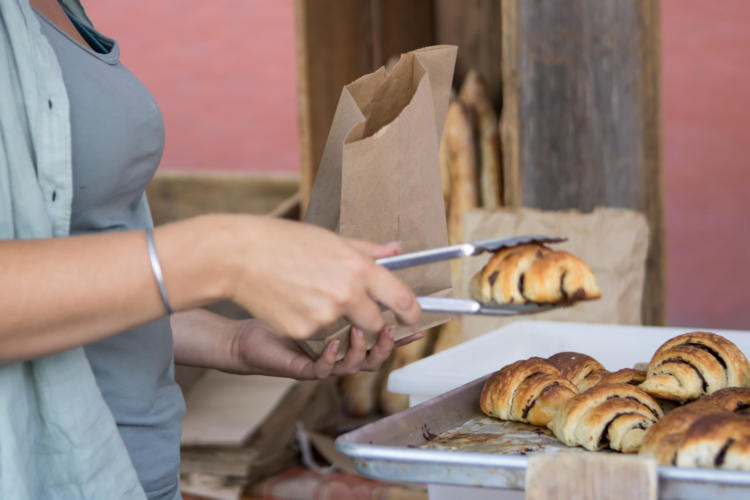 Niwas creates delicious baked goods fresh from a wood-fired oven. With all of their breads mixed by hand "with love and mantra," it's no wonder their 3-day sourdough is as tasty as it is!
While their products are most commonly found at local farmers' markets, you can check out a new pre-order service they are offering this winter season. You can also follow them on Facebook or call (250) 344-1394.
These are only five of the dozens of local vendors that frequented the Kimberley Farmers' Market. The truth is, there are many local farmers, producers, and businesses in our communities. Here are a few additional ways we can support them:
Keep your eyes peeled for local brands and makers at grocery stores in the area, especially local businesses like Stoke Market, Sprout Health Market, Morchella Market and Cafe, and Nutters that are known for carrying local products.
Reach out to farms and makers directly. Chances are they'll be more than happy to tell you about who they are, what they do, and how you can get your hands on their products.
Follow farmers and producers on social media as soon as you hear about them! Use social media to stay up to date, engage, and support local. If you're looking for inspiration, head over the Kimberley Farmers Market page to find vendor lists and see who we've tagged in our posts.
Give produce and food products as gifts as a way of helping local farmers and producers get the word out to your friends and family.
Thank you to all those who supported the Kimberley Farmers' Market by attending, vending, and volunteering. We would also like to thank the City of Kimberley for their continued support of this Wildsight Kimberley Cranbrook Project. We look forward to seeing you all at next year's market but until then, we trust that you will keep the weekly tradition of supporting local alive!