Girls on Ice is a tuition-free wilderness science education program for young women, non-binary, and gender non-conforming youth (ages 16-18). The team spends 12 days exploring and learning about mountain glaciers and the alpine landscape in Kokanee Glacier Park through field studies with a professional female wildlife biologist, a glaciologist, artist and mountaineers.
Each year the program seeks volunteers, known as "Gear Fairies", not only to introduce the participants to more awesome women, but also to hike up some of the science, mountaineering and art gear up to their basecamp. This involves hiking up a large pack of gear, leaving the gear at their Kaslo lake campsite, and then hiking out with your empty packs. On the way up you will spend a couple of hours paired with a participant, hiking with them, and sharing life stories and inspiration. Seeing a large team of strong women come to support them is a powerful moment for the participants.
We are seeking people for:
Wednesday August 31st 7:00 am – 6:00pm ish Gear Fairies to hike out gear
Volunteers must:
Be 21 years or older
Identify as female, nonbinary, or gender nonconforming
Be capable of carrying a large (50+ liter) backpack filled with food, camping equipment, and/or science equipment
Possess or be able to borrow a large (50+ liter) backpack
Be able to commit to a full day of hiking
Be keen to get to spend some time hiking with, and getting to know a participant
Sign a waiver and get a vulnerable waiver check done (free)

If you are interested please email Judith at girlsonice@wildsight.ca ASAP. Thank you.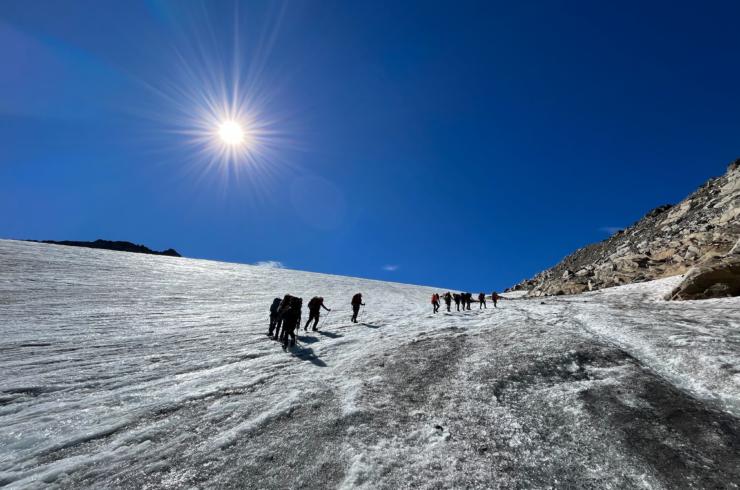 Wildsight was able to collaborate with Girls on Ice Canada for an expedition in August 2022. Read all about the 2022 Kootenay expedition! Wildsight…
Learn more