With a new year often comes time to pause, reflect and think about the future. On January 25th, 2021 the North Columbia Environmental Society (NCES) merged with Wildsight to become Wildsight Revelstoke. For over 20 years, dedicated members of NCES advocated on behalf of countless environmental issues, building a strong foundation for the organization that would one day grow to become Wildsight Revelstoke.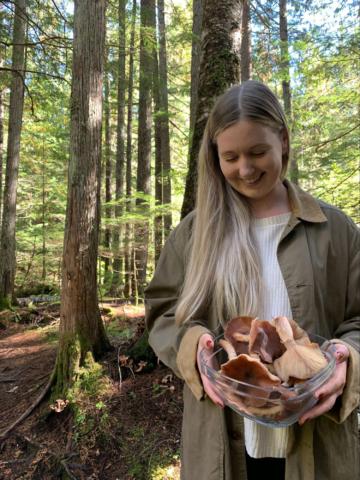 As we think back on our first year under the Wildsight umbrella, we are filled with a deep sense of gratitude for the support of the Revelstoke community, for the generosity of our members, for the passion and commitment of our volunteers, for the partnership of like-minded organizations, and for the beautiful natural environment in which we live, work and play.
"Merging with Wildsight was a phenomenal opportunity for the North Columbia Environmental Society to build capacity for wilderness conservation in Revelstoke," says Kent Christensen, Wildsight Revelstoke president. "It's allowed us to become part of a larger conservation network and partner with other branches who are working to advance important environmental issues. With this support, we know we will be able to achieve a greater impact."
The year brought many challenges. Working throughout a pandemic required immense flexibility, adaptability, and Zoom. Lots of Zoom… Wildsight Revelstoke found new ways of connecting with the community. Virtual events like History of the Columbia River, Garter Snake Shenanigans, Rats in Revelstoke, Ethnobotany and Toad Angels allowed us to educate and engage our network through virtual settings, generating important conversations around our local species and ecosystems with the help of knowledgeable experts.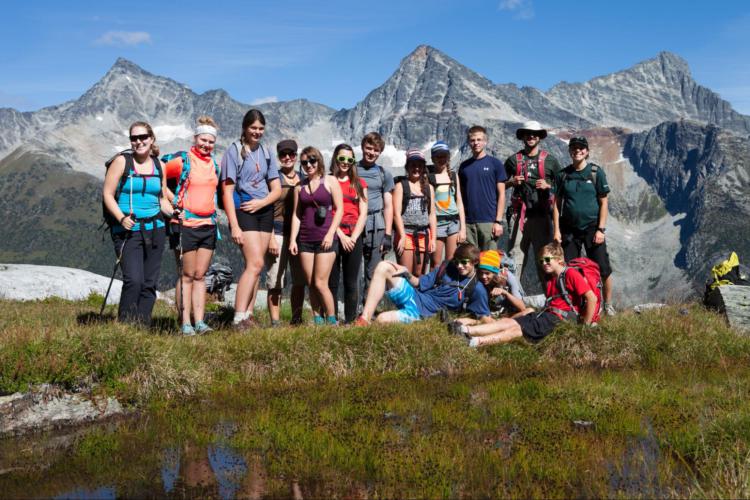 Warm weather months allowed for outdoor programs and events, such as movie nights in the park, learning about plant medicines, foraging for mushrooms, celebrating our local salmon at the Kokanee Fish Festival or helping the Columbia Shuswap Invasive Species Society with their planting efforts.
Inspiring the next generation of environmental and outdoor leaders, the Wild-In-Sight Youth Camps took place over the summer, drawing eager kids to explore, get active and make new friends. We also partnered with Parks Canada to deliver the Glacier Adventure Stewardship Program, which created valuable opportunities for youth to hone their leadership, communication and team building skills while cultivating a deeper appreciation for the natural environment.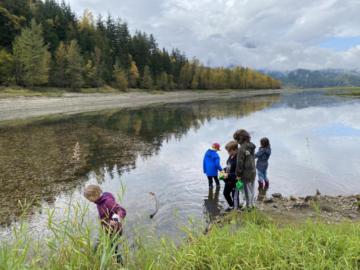 In addition to camps and programs, environmental education initiatives in partnership with local schools got children out of the classroom and into the great outdoors. Students visited the Columbia wetlands and the Revelstoke Transfer Station and Landfill. These hands-on learning opportunities educated students about the importance of nature through inquiry-based outdoor education experiences.
Wildsight Revelstoke couldn't do the work we do without dedicated volunteers. In December, we held a small gathering to acknowledge the amazing contributions of Virginia Thompson, former member of the North Columbia Environmental Society and dedicated environmental activist. Virginia received the first Wildsight Revelstoke Lifetime Achievement Award thanks to her passionate and informed advocacy on behalf of the Southern Mountain Caribou and Inland Temperate Rainforest. Her brilliance, dedication and commitment have made a lasting impact on Revelstoke, inspiring others to champion wilderness and wildlife conservation issues and to stand up for what they believe in.
This year, we want to reach more people, form new partnerships, offer additional programs, protect important ecosystems, and educate more minds — both young and old. Our mission remains focused on fostering a deep care, respect and love for our natural world. We will strive to address pressing local conservation issues around concerns such as old growth forests and protecting species at risk while strengthening relationships with First Nations. Through programs, events, education and outreach, it is our sincere hope that we will create a more inclusive, sustainable and vibrant community here in Revelstoke.