An innovative new project is putting food into the forest and fighting the risk of forest fires at the same time.
Wildfires blanketed BC this summer, with climate projections showing that, if business as usual continues, temperatures will continue to rise. In the heavily-forested West Kootenay, wildfires are perhaps the most extreme threat our communities face.
But not all hope is lost. This November, work began at Bannock Point (south of Silverton Village) to test a model for 'agroforestry'. Agroforestry combines community-based forestry and agriculture through intentional planning. The aim is to work with the local landscape and plant valuable food crops that strengthen local food security and are both drought and wildfire resistant. This will happen among trees in an area that has been previously thinned to reduce wildfire risk. Creating a community asset capable of generating social, nutritional, and economic value will provide incentives and resources to make the site more fire-resistant and reduce the need for future wildfire treatment.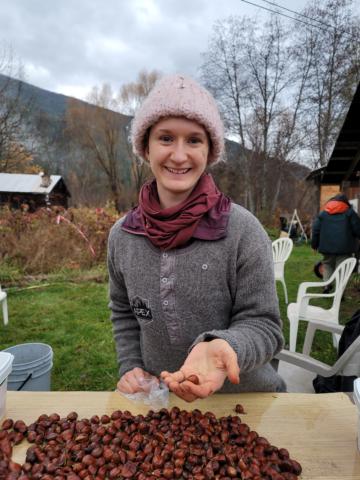 This 'Bannock In Bloom' project was developed through a partnership between Wildsight's Youth Climate Corps (YCC) program, Kalesnikoff, and the Slocan Integral Forestry Cooperative (SIFCo).
According to Gerald Cordeiro, Forest Development Manager for Kalesnikoff, agroforests also hold immense promise to improve the carbon balance of forests in the Columbia Basin.
"By selecting our species carefully, reducing emissions from wildfires, and using excess biomass to enhance soil health and carbon storage, these kinds of sites can support our climate change mitigation efforts. We believe this is a scalable model that can have a measurable positive impact on our communities," says Cordeiro.
The project is on tenure held by SIFCo, a non-profit community cooperative managing Slocan Valley forests to advance climate change adaptation, community resiliency, ecosystem-based management and economic diversification.
Wildsight's Youth Climate Corps will work to transform this 2 hectare site. They will receive training and mentorship from various local experts including permaculture expert Gregoire Lamoureux, a longtime Slocan Valley resident with decades of experience.
"The Youth Climate Corps is about connecting young people with work and training opportunities that are necessary actions to recognizing the impacts of climate change," says West Kootenay YCC Coordinator Melissa Lavery. "We're excited to have our current crew engaged in the design of this multi-faceted project and I look forward to hiring a new cohort of youth next spring to bring it to life."
Wildsight's Youth Climate Corps program launched in September 2020 with an inaugural crew based out of Nelson. This year, the program added a second crew in Kimberley/Cranbrook and aims to grow to more Columbia Basin communities.
This project is made possible with support from Columbia Basin Trust and the Province of BC through the Crown Land Wildfire Risk Reduction Program.
For more information about Youth Climate Corps, visit our program page. Also, see sifco.ca and kalesnikoff.com/sustainable-forest-stewardship/ for more project details.