It is undisputed that spending time in the natural world is good for us. It can lift moods, calm anxieties, boost creativity, and improve sleep. And it's not just physical and mental benefits that the natural world provides us with.
Known as Ecosystem Services, there are a plethora of jobs that nature does for us, without asking for any compensation. From providing us with clean air, water and the food we eat to inspiring the design of modern day technology, nature works continuously to help us. Certain trees like conifers emit oils and compounds to safeguard themselves from microbes and pathogens. These molecules known as Phytoncides are good for our immunity too. Breathing in the forest air boosts the level of natural killer (NK) cells or lymphocytes, in our blood. NK cells are used in our body to fight infections, cancers and tumors! Doctors and healthcare workers have caught on to these benefits and have started to prescribe spending time in nature to their patients. Teachers and educators see a dramatic decrease in behavioral issues when their students spend time learning and playing outside.
I try to get outside at least daily. And lately, as I visit the special wild places near my home, my mind has been bogged down thinking about the ongoing challenges that British Columbia's Inland Temperate Rainforest is facing. I have found myself wondering what I can do to help save these ancient forests. How can I, a 40 something-year-old, take on the destruction of hectares and hectares of 400 year old trees? I can sign petitions, visit a blockade, protest, educate my students about the importance of old growth forests. But there has to be something more I can do for these trees that have taught and given us so much. I found the answer to this question while listening to "A Conversation Between Robin Wall Kimmerer and Robert Macfarlane" in their discussion on the book Old Growth. One of the most important things that I can do right now in the fight against deforestation of these precious trees is to connect with them. To view them not as a cedar or larch or pine tree, but as allies. To listen to them. To imagine what they would say to me, if they could talk. To imagine what they would ask of me, if they could ask. To walk into the forest and imagine the trees are watching me.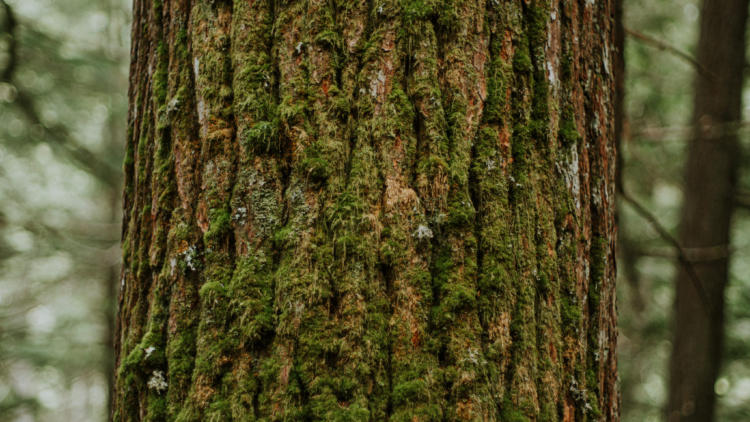 So last week, in celebration of Take Me Outside day and my quest to do something about the current threats old growth forests are currently facing, I spent an afternoon bathing amongst the trees. Inspired by the art of Forest Bathing or Shinrin Yoku, I went out to the Kimberley Nature park and followed a series of invitations to help me connect more deeply to the natural world and to cast light on my responsibility to the givers of gifts, the trees. And to continue to build on the idea of reciprocity in the way that I live, teach, and parent, I gave thanks to the arboreous wonders that surrounded me. The experience was so powerful that I wanted to share these forest bathing invitations with you.
While Wildsight doesn't offer forest bathing programs (yet), our suite of Education in the Wild programs are designed to connect students to the wild places they call home, to spark awe and wonder about the natural world. Kindergarteners might make a "Tree Friend" who they follow all year long, connecting to the changes their old friend goes through and using its trunk to rest during a sit spot. Students in grades 4-7 will learn about the ecosystem services the natural world provides, inspiring an ethic of stewardship and love for the wild. We believe that everyday should be Take Me Outside day and we encourage you to find ways to help you deepen your connection to the natural world and say a little thank you to the trees the next time you're out in the forest.
No-one will protect what they don't care about and no-one will care about what they have never experienced.David Attenborough https://vimeo…
Donate
Take a look back on past newsletters for more great ideas on how to get students learning from our favourite teacher: nature! Nature Through the…
Resources