Deep in the heart of the Rocky Mountains, Louisiana Pacific (LP) is building a new road and is about to log important habitat for endangered mountain caribou.
Multiple mountain caribou sightings in and adjacent to planned cut-blocks have been reported to the provincial government. Despite sightings of the endangered caribou, Louisiana Pacific is in the process of building a road to access the remote Sullivan and Kinbasket Rivers, 100 km north of Golden. Caribou were sighted here as recently as this past June. Multiple groups were spotted, including what appeared to be a cow and a calf, a male and a female, and one sighting of a group of 11 caribou. Previous sightings have also documented signs of winter caribou usage in this area.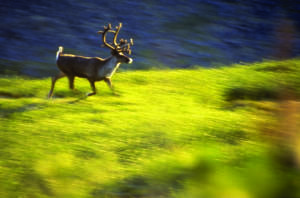 "The new and extensive road network will put these caribou at greater risk", says Wildsight Conservation Specialist Eddie Petryshen. "The province has done little to mitigate the risk to caribou and is aware of the recent caribou sightings in close proximity to the cutblocks and new roads."
Very little is known about caribou in this area — the last time the province did a caribou census was in 2008 and there have been very few caribou fitted with radio tracking collars. Historically, mountain caribou lived throughout the Columbia and portions of the Rocky Mountains but their range has shrunk dramatically in recent years, primarily due to habitat loss.
"The road and new bridge will connect most of the east side of the Kinbasket, leaving very little un-roaded and secure habitat for sensitive species like caribou and grizzly bears," says Petryshen.
Caribou are an endangered species in the region and are at risk from the cumulative impacts of logging in their habitat. A landmark study recently found that over a 12-year period, caribou herds across BC and Alberta lost at least twice as much habitat, primarily to logging, as they gained to re-growing old cutblocks. Two local populations in the South Selkirks and Purcell Mountains were recently declared extirpated.
The Sullivan and Kinbasket rivers are part of the globally unique Inland Temperate Rainforest ecosystem. A recent study suggests that ecosystem collapse in B.C.'s rare Inland Temperate Rainforest is imminent in 9 to 18 years if logging rates continue at current levels.
"We've already degraded and lost so much of this unique ecosystem and its caribou habitat," says Petryshen. "LP must amend their plans to accommodate these endangered caribou and their habitat. So far, they have not been willing to change or modify their logging plans."