On July 24, Wildsight Invermere hosted its second Electric Vehicle Show in downtown Invermere, BC. "Our first one last September was so popular with attendees that organizing another one was an easy decision. We think the show may have been the first of its kind in rural Canada," said Cam Gillies, Wildsight Invermere's Board Vice President and a recent electric vehicle (EV) purchaser.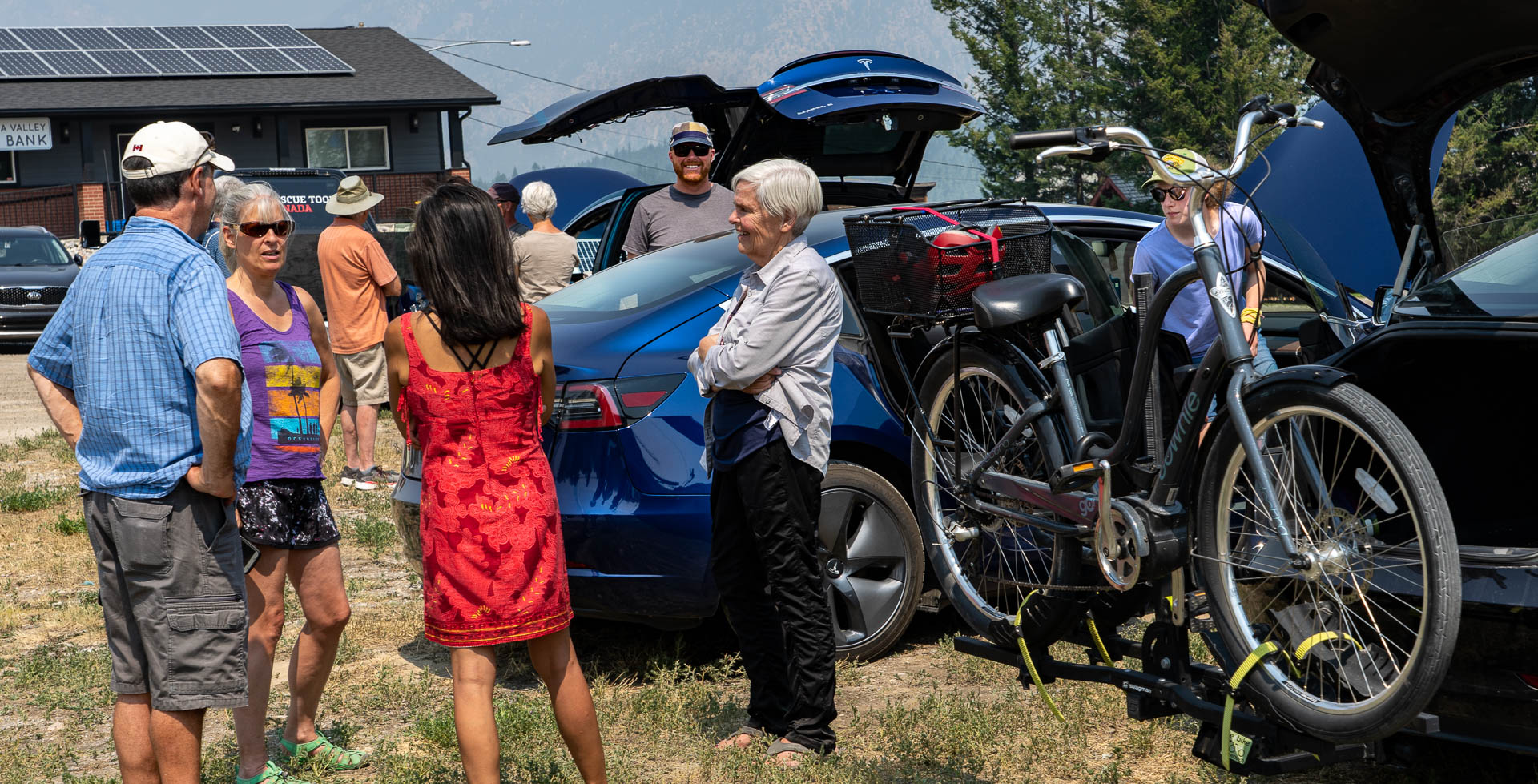 As the heavy stream of weekend traffic passed the show site in the parking lot of Columbia Valley Makerspace, it was obvious that reductions in carbon emissions need to be seriously addressed. The EV Show, which is run as part of Wildsight Invermere's Climate Pledge program, is designed to raise public awareness and understanding of the fact that emissions from transportation are one of the three largest sources of non-industrial greenhouse gases in the Columbia Valley — in British Columbia as a whole, they're the largest.
EVs represent an important lever for change in this equation as a result of Canada's relatively 'clean' electricity grid; indeed, the average Canadian driver can reduce their vehicle emissions by as much as 90% when they make the switch from an internal combustion engine vehicle to an electric one.
The ongoing heat didn't deter 12 enthusiastic EV owners from participating in this uncommon show-and-tell with a wide range of models including the Tesla Model 3, Model X and Model S, the Kia Soul, Chevy Bolt, and the Hyundai Kona. A big hit was a 'stripped down' Tesla. Unique in all of Canada, it's a demonstration vehicle that's been intentionally exposed to show the intricate working parts of an EV, and was hauled to town by Kevin Patterson, a Banff resident who leads EV education throughout Western Canada. One of the three Chevy Bolts on display was part of Wildsight Invermere's EV carshare called Spark.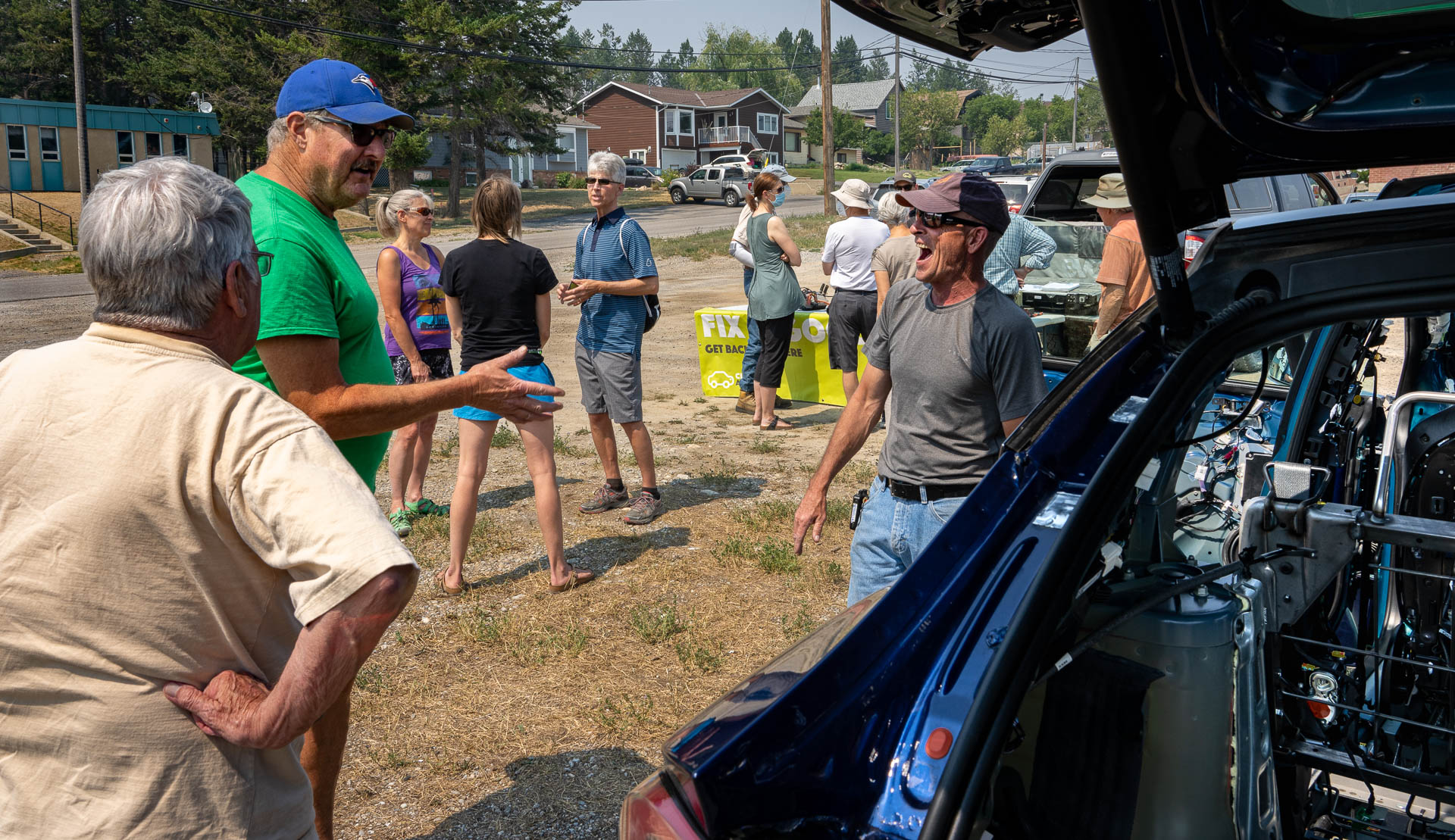 Cleanline Automotive, an Invermere-based 'earth-friendly' full-service automotive maintenance and repair shop, was also on hand to answer all manner of technical questions related to EV assembly, battery-life and range. As the afternoon wore on, approximately 130 attendees made their way to the show to admire the vehicles on display and pepper the EV owners, and Cleanline, with questions.
"I'm excited about a zero-emission transportation future," says Steph Van de Kemp, co-owner and 'Chief Spare Tire' at Cleanline. "There is definitely growing consumer interest in cleaner cars that are more cost effective to drive and maintain. We are seeing that trend in our business, with many of our customers already driving EVs and plug-in hybrid electric vehicles (PHEVs). We get a lot of questions about EVs from people who are on the fence and we are happy to provide answers, but we also encourage people to drive one. It sells itself. Many people have made a commitment to purchase an EV for their next vehicle. If you're in the market for a new car and you have the budget, it's a no-brainer."
A sentiment backed by many of the show participants. Calgary residents James and Karen Seigel have been second home owners in the Columbia Valley for more than ten years and purchased their Tesla Model S only one week ago because of the frequent trips they make back and forth from Alberta to BC. "We want to do our part [to mitigate climate change] in whatever way we can," James said.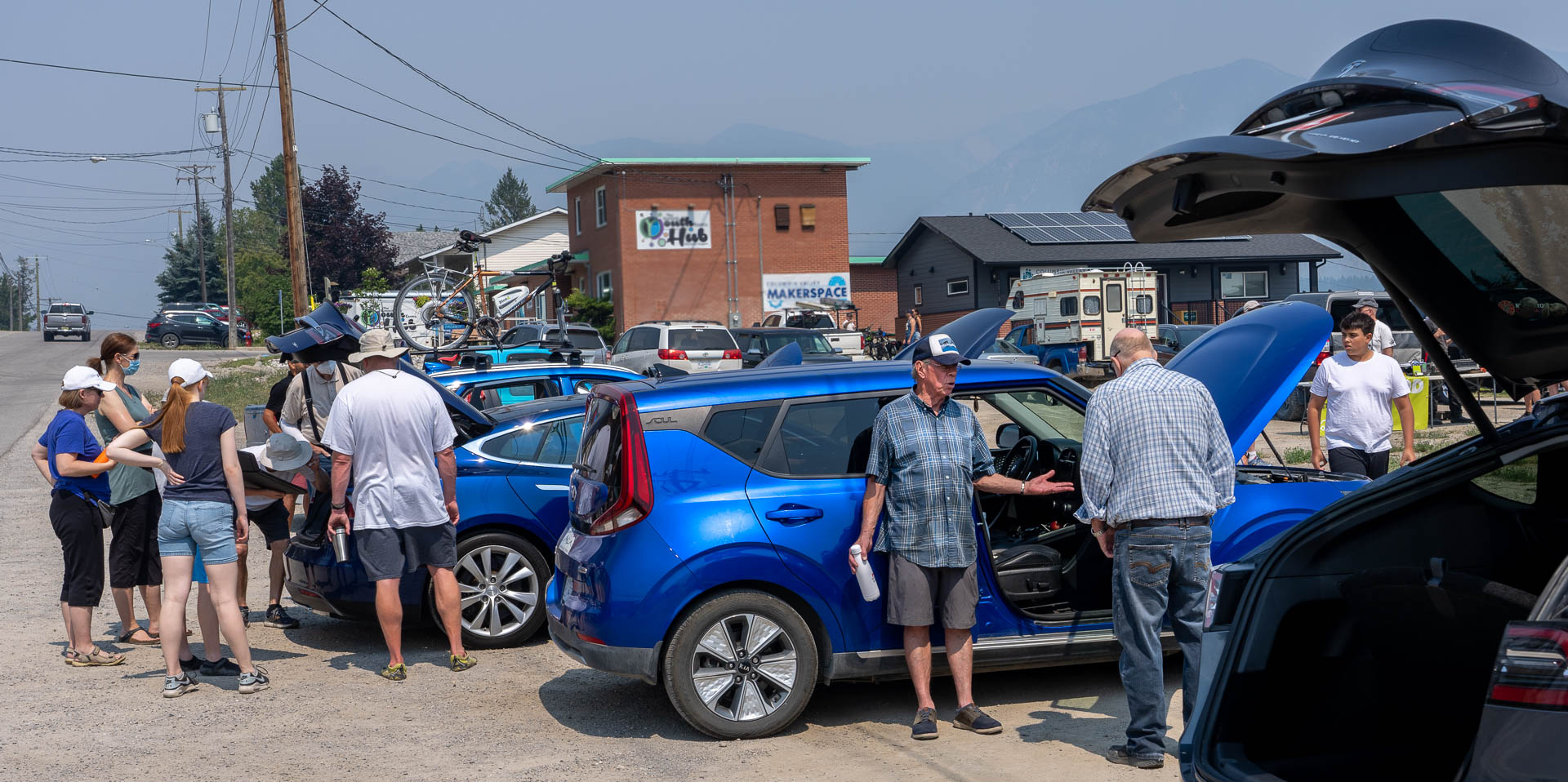 All photos © Pat Morrow