Six young adults are embarking on a new challenge; one that will stretch them physically, emotionally, and mentally. The venture they've signed up for seeks to play a part in tackling the greatest challenge our world is facing today: climate change.
The Youth Climate Corps (YCC) began its inaugural journey in Nelson in the summer of 2020 with the goal of enacting tangible mitigation, adaptation, and education projects in the West Kootenay region. The YCC was launched by Wildsight in collaboration with two community leaders — Richard Klein and John Cathro — and a larger team of supporters united by a desire to empower youth to lead their communities in taking action on the climate crisis. Projects included wildfire mitigation, food security, riparian restoration, storytelling and more. The crew learned valuable skills and left the program empowered to make positive changes.
Building from that successful venture, Wildsight has been seeking funding to grow the program in other communities. Thanks to funding and partnerships in Kimberley and Cranbrook, the second iteration of this program is moving to the East Kootenay.
Six young locals (age 19-29) have signed up for this opportunity to learn new skills, gain new knowledge, build connections with leaders in a variety of fields, and access a creative outlet that will help them shape their own world while influencing the world around them. This experience will help launch meaningful careers for these young leaders of tomorrow. All while earning wages and making contributions to the communities they call home.
"It can be a challenge to secure your first job in any field because of the double edged sword of needing experience to get a job, but needing a job to gain experience," explains YCC Kim/Cran coordinator Tim Chapman. "In a climate changed future, diverse work experience will be especially valuable as climate action requires us to address many complex interconnections between things that have historically been more siloed."
YCC creates an opportunity for these young people to break into the job market and test numerous paths down which they could steer their careers.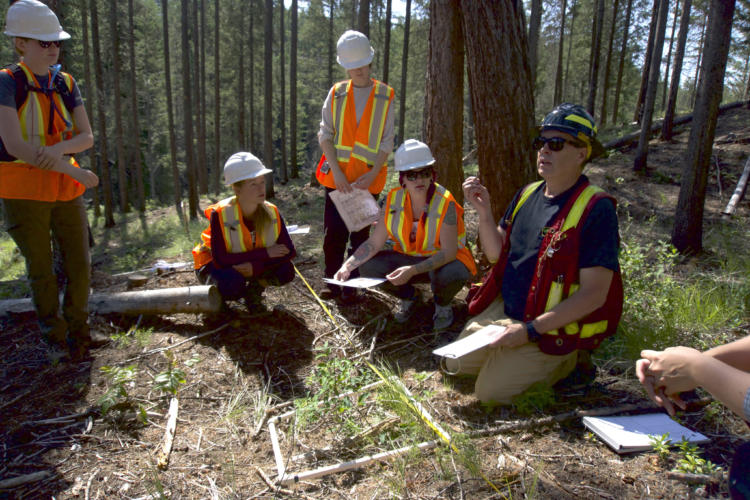 The training
Kim/Cran crew members, hired in June, bring a diverse set of backgrounds including music, marketing, carpentry and policy. However, they all share a deep concern for our future and a desire to become positive change makers as they each pursue their own interests.
The crew met for an initial training in early July, diving into a rapid fire learning course to support their upcoming work.
"Awkward introductions quickly turned into conversations discovering common reasons for why each individual wanted to become a part of the YCC: to learn, share, and be part of a community of folks who understand the urgency and complexity of climate change, and the need to face these challenges head on," describes Tim.
Education included looking at the drivers of climate change with local expert Ingrid Liepa and considering what it might take to bend the curve back towards a scenario that preserves the natural world and human quality of life.
The crew also had the honour and privilege of learning from nasu̓kin (Chief) of ʔaq̓am Joe Pierre, who shared about his background as a knowledge keeper and told a version of the Ktunaxa creation story. They also spent the next morning with Michele A. Sam, a Ktunaxa scholar who helped the team think more deeply about how to carry out work in a way that respects the landscapes, waterways, and people who have called this place home since time immemorial.
Finally, the team spent a day in the field with Robert Gray, a wildland fire ecologist, who taught the crew about the history of fire and wildland management in the Kimberley/Cranbrook area. He also instructed crew members in technical procedures for forestry data collection, which will be the basis for this season's largest project.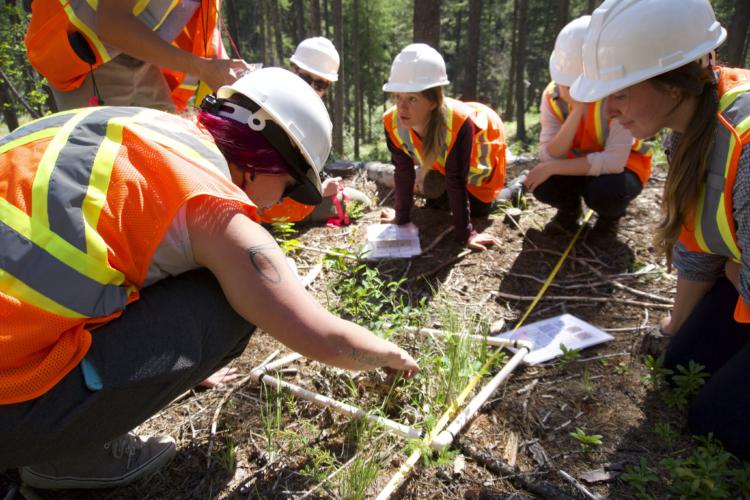 The work
The Kim/Cran YCC team will be responsible for implementing a unique wildland fire research initiative — possibly the first of its kind — designed and led by Robert Gray. Over the next few months, the crew will collect data in forested areas adjacent to Kimberley and Cranbrook. Forests are dynamic and accumulate vegetation over time, which builds wildfire risk. The goal of this YCC investigation is to inventory the new growth of fuels in areas of the forest that were previously treated to reduce this risk. This information will help wildland fire professionals determine how they can best manage the threat of wildfire as we grapple with a history of fire suppression and the hotter, drier norms forced onto us by climate change.
Other projects this season will address different dimensions of climate action including local food security, ecosystem restoration, and community education and engagement.
Wildsight is thrilled to see this program expand into its second location. As the Kimberley/Cranbrook YCC begins, we are also excited to be relaunching our West Kootenay crew for a September – December season. Applications for the West Kootenay Crew are now open and will be due by August 9th!