To get a general idea of the Creston Valley Green Map- you can see our first post here. To see the first three map themes, go here. Otherwise, dive into some details and give us your feedback!

4. Forest and Flora
The goal of the forest and flora mapping theme was to find areas of mature forests and species at risk. Conservation efforts are often centred around protecting undisturbed mature forests. Mature temperate forests are structurally complex and support biodiversity. They are also rare on the landscape due to forestry and land development. Several data layers were used to rank high quality forest/flora areas. Data included: cutblock records, satellite imagery, special forest types, endangered plant species, endangered ecosystem types, Whitebark Pine areas and Proposed Old-Growth Management Areas.
When you look at this theme, interesting forest types and flora are scattered all over the Creston Valley. The largest contiguous areas are in the upper reaches of Arrow Creek, west-facing slopes overlooking Duck Lake, and riparian areas in the valley bottom.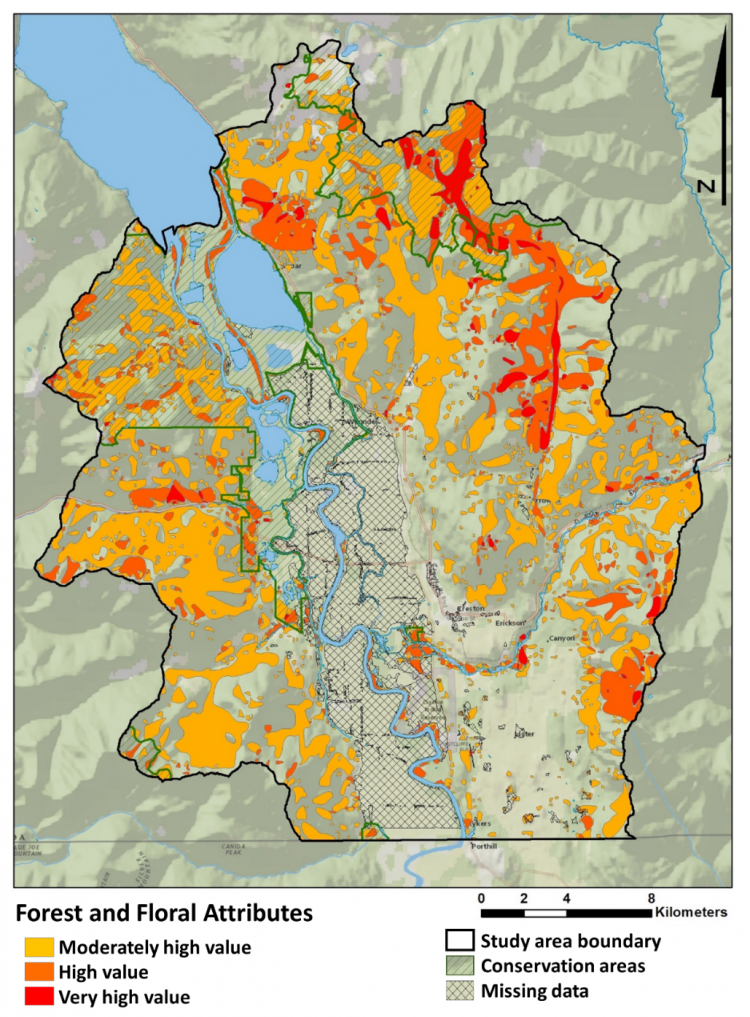 What plant communities and forests are important to you? Why?
Data Sets:
Cutblocks recorded between 1966 and 2016

Forest cover satellite imagery 2000-2016

PEM cottonwood-dominated Site Series, ICHxw 102 and ICHxw 103

VRI Cottonwood dominated stands and Deciduous forest stands, productivity, projected age, Whitebark Pine presence

Blue and Red listed plant species, and ecosystems from the Conservation Data Centre of BC

SGRC suitability analysis for Whitebark Pine

Projected Old-Growth Management Areas

5. Human Footprint
Hard infrastructure like roads, buildings, fences can change how wildlife use the landscape. Hard infrastructure can also change habitat and ecosystem services. Conservation efforts need to take into account where human densities and infrastructure are greatest and where coexistence could be facilitated. The human footprint map theme used data such as: road density, building density, water license density and private land.
The largest areas that are relatively free of human development are the Duck Creek and Arrow Creek watersheds. The presence of the community watersheds influenced this result. Conservation and maintaining water quality for communities are often seen as synergistic goals.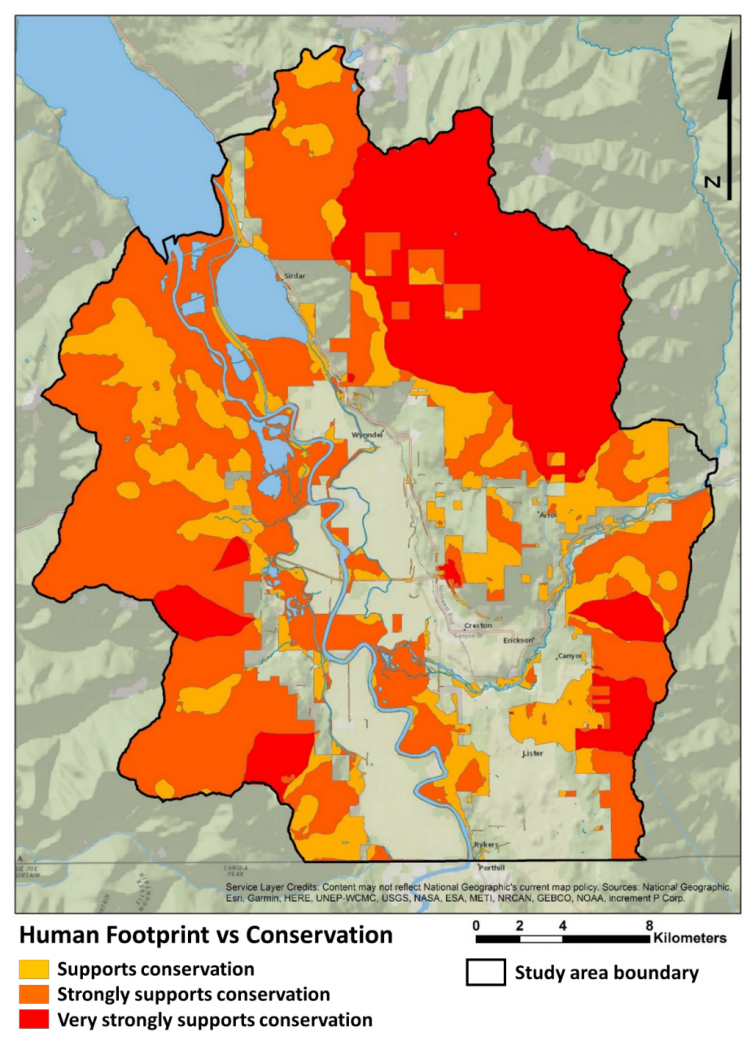 Do you know any examples of humans coexisting with wildlife in the Creston Valley? Where are there conflicts between protecting natural areas and human footprint?
Data Sets:
Road Density from the Road Atlas of BC

Building Density, Extraction sites from Terrain Resource Information Management (TRIM)

Water license density

Property ownership Type

6. Geotechnical and Wildfire Risk
Areas that are at risk for flooding and landslides are a safety hazard to human habitation. Houses and infrastructure are often not permitted in these areas because of the risks. On the other hand, areas on floodplains are often productive and biodiverse and consequently conservation and terrain risk can work synergistically in some cases. This theme used the following data: floodplain and erosion risk, terrain stability and wildfire treatment areas. Areas that are zoned for wildfire treatment were given negative values because the logging and fuel removal that may interfere with conservation intent. Areas of high flooding risk such as the Goat River flats rated highly in this theme. The steep talus slopes along the Skimmerhorn also show potential for conservation within an erosion prone area.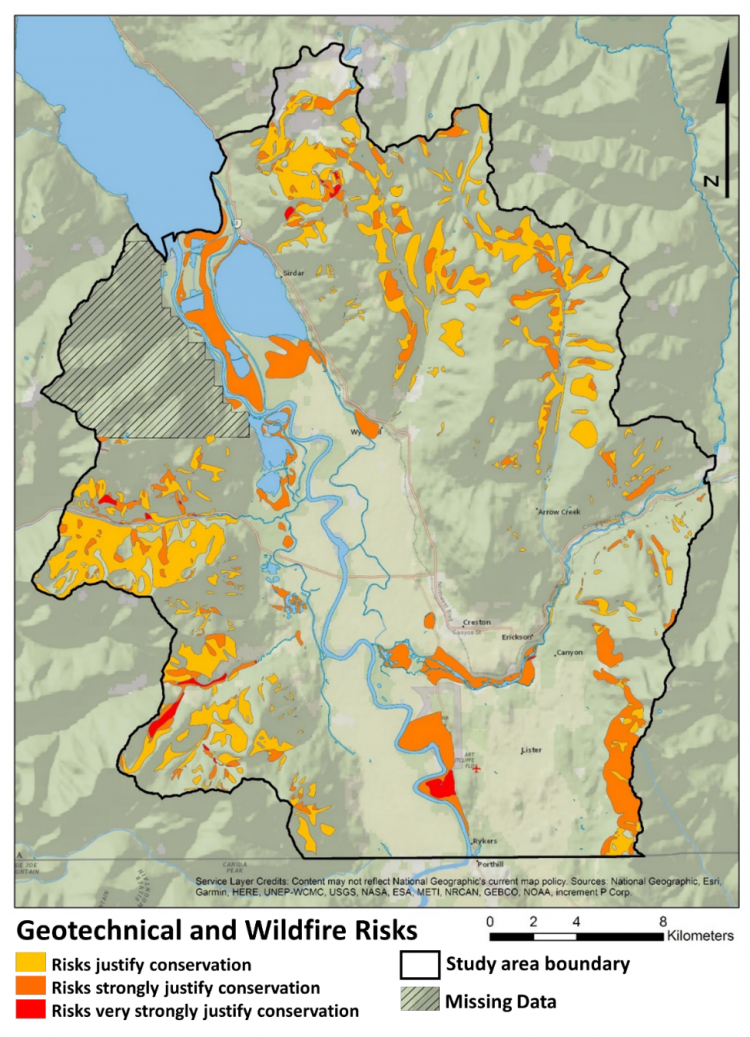 What do you think of the idea of conservation in areas of geotechnical risk? Do you think there are places that this would help increase protection of ecosystems in the Creston Valley? Why?
Data Sets:
Floodplain and Erosion Risks

Terrain stability

Processes modifying surface materials from the Vegetation Resources Inventory (VRI)

Wildfire Fuel Treatment Priorities

In the next blog post, we will put all the themes together to form the larger Creston Valley Green Map.
Thanks to Yann Troutet, Yellowstone to Yukon Conservation Initiative and Selkirk Geospatial Research Centre for collaborating on this project.