One doesn't have to drive Kootenay roads for long to know we have an issue with wildlife collisions on our highways. Animal carcasses at the side of the road are commonplace and a telltale smear of blood on the highway is a reminder of how deadly the road can be. Too often the carcass is that of an elk or a bighorn sheep or even a grizzly bear, animals whose populations are threatened on many fronts.
For decades we have seen wildlife crossing structures successfully reduce wildlife mortality in other jurisdictions. At long last, we are seeing the first steps toward cutting down wildlife fatalities on Highway 3. 2020 will see the completion of two major projects that incorporate wildlife crossing structures into their design. These include changes to the Lizard Creek bridge immediately south of Fernie and the addition of the passing lane west of Jaffray. The benefits of fencing and separated crossings is well documented yet, until recently, they hadn't been part of the plan in the East Kootenay.
This Lizard Creek bridge was designed from the outset to have wildlife crossings on both sides of the creek. The area around Fernie is a significant corridor for grizzly bears and other large wildlife, so this crossing is a welcome start to connectivity in the vicinity.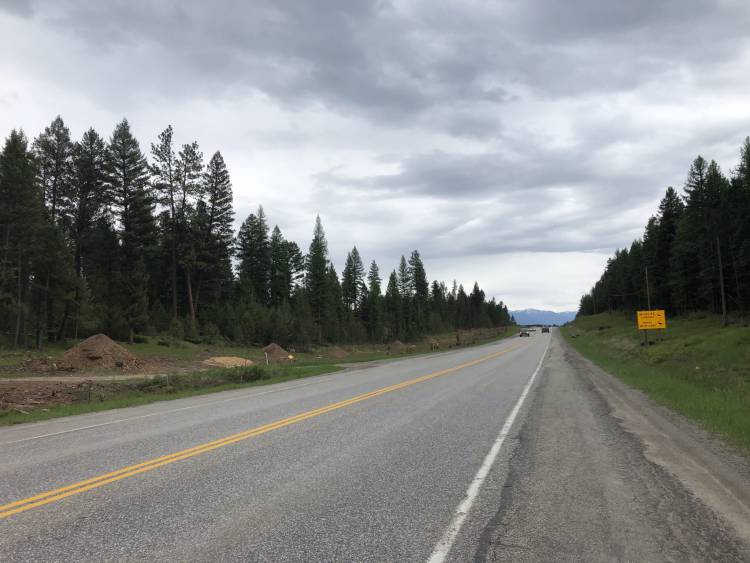 The Jaffray passing lane project will do more than speed traffic along, it will provide safer passage and connectivity for wildlife in the area. This stretch was identified as one of the priorities in the Highway 3 Transportation Mitigation for Wildlife and Connectivity in Elk Valley report. A wildlife underpass will be added just west of the 2km of passing lane. Fencing motorists are familiar with from driving through Canada's mountain parks or over BC's Coquihalla highway will now be part of the scenery along Highway 3. Over 800 fenceposts will be part of the 2km of wildlife fencing designed to guide animals to the crossing. Fencing is a key component of the success of separated crossings.
The East Kootenay is one of the most important landscapes in North America for wildlife connectivity. Our valleys are havens for ungulates and carnivores and provide corridors that are essential to genetic diversity, the benefits of which extend far beyond our mountain passes. Unfortunately, a major inter-provincial highway and rail line tear right through the midst of wildlife on the move. Traffic on Highway 3 is up 24% in the past 10 years and increasing use by transport trucks amplifies the lethal nature of this route.
A decade ago, a joint partnership between Wildsight, Miistakis and Yellowstone to Yukon began exploring solutions to reduce wildlife mortality in this deadly stretch of highway. Using a science-based approach a report was completed in 2010 and then updated with more science and data in 2019. This report, Highway 3 Transportation Mitigation for Wildlife and Connectivity in Elk Valley, is beginning to pay dividends. Through an analysis of years of research and data including provincial highway statistics and the citizen science program "Roadwatch," the highest risk sections to wildlife and humans were identified, and potential solutions recommended.
These two projects are a good start to supporting wildlife connectivity in the East Kootenay. With continued efforts on behalf of the province, industry, environmental organizations and the public we can continue this work. The goal is to protect wildlife in the Elk Valley, keep drivers safer, and provide a strong example to the rest of BC of how we can build a future that's safer for drivers and wildlife on our provincial highways.
For more information and to look at the Highway 3 report, visit www.roadwatchbc.ca.