Meredith (top right). Photo by Pat Morrow
The first time Meredith Hamstead saw Jumbo was during a heliski trip, alongside the very man hell-bent on building a ski resort on its sacred slopes.
"It was bluebird skies and deep powder skiing. Perfection," Meredith recalls. "I was in the middle of our group's lunch break having this thought: 'This place is perfect whether or not we are here to experience it – it is not here for me, but for itself'… when this guy stands up and pushes to the front of our group, throws his arms out to his side in a grand gesture and bellows 'THIS is where I will build my ski resort'!"
It was the first time Meredith had heard about the controversial proposal, and the first time she met its proponent Oberto Oberti.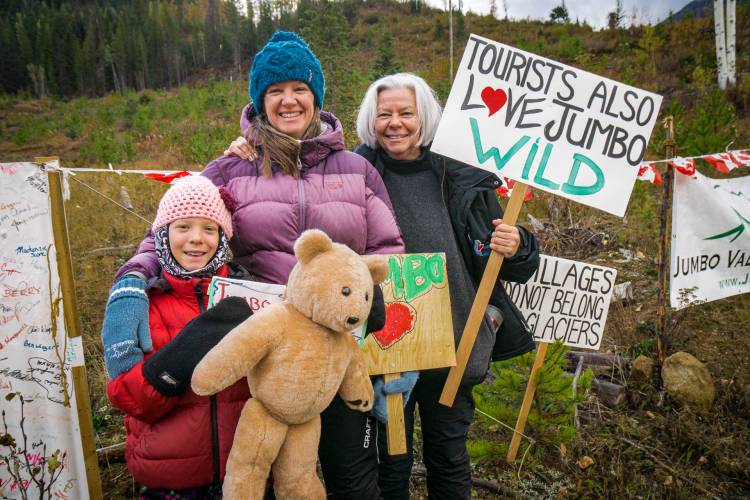 After that first perfect powder day, Meredith committed to research for herself whether the resort was a good idea or not. What she found was flawed, political, self-serving economic analysis in the paperwork.
"The notion that the outcome was essentially predetermined (even in the face of good arguments against the resort) was anti-democratic and very offensive to me – in the end, it was that sense of thwarted social justice and democracy that got me in and has kept me working on environment issues ever since."
She joined the Jumbo Creek Conservation Society (JCCS), whose mission was to protect the Jumbo Valley from Oberto's plans. She filled roles as needed throughout the years and worked alongside many incredible people on the "winningest conservation campaign in BC," she says.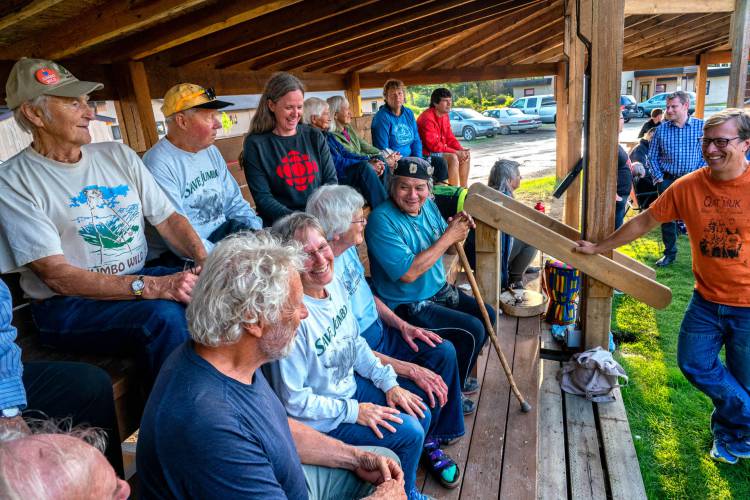 So, what does she attribute to the campaign's ultimate success?
"Honest relationships. Honest intent. And Kootenay Grit," she says. "I can't really explain why so many people who have spent so little time in Jumbo feel so passionately about it, except to say that Qat'muk has a pull that I felt from my first time there. People would give us anonymous tips; they would wander into the woods to do peaceful citizen action; they would come to protests with little to no notice. There was meaningful passion for community and a sense of place in the Kootenay long before Jumbo. I think that must be what won the day….
Oh, and great strategy by great activist minds; that never hurts!"
For those fighting proposed developments in other places, Meredith urges them to not give up.
"It sounds trite but I mean it. The meetings are boring, the stress is endless, the thanks are few and far between. But people need you, the reluctant activist, to care enough to keep showing up over and over and over again. It is a privilege to have people and places to care for beyond ourselves. I have gained so much by caring for Jumbo and my community. It is a stunning positive feedback loop that builds community and creates joy."
Reflecting on the journey, Meredith says the Qat'muk Indigenous Protected and Conserved Area presents an amazing opportunity to show the world how reconciliation is done.
"The trail ahead has the potential to lead our community, Indigenous and non-Indigenous, to a new way of relating to each other and to the earth – one that is rooted in curiosity, respect, and stewardship. I suspect that it will not be easy, but I am optimistic that the challenge will be worth it."