Did you know that animals who thrive in winter are known as chionophiles (ki-on-o-file)? The word is derived from the Greek word chion, meaning "snow" and phile, meaning "lover." This year, Wildsight will take over 2000 students outside to connect with the magic of winter.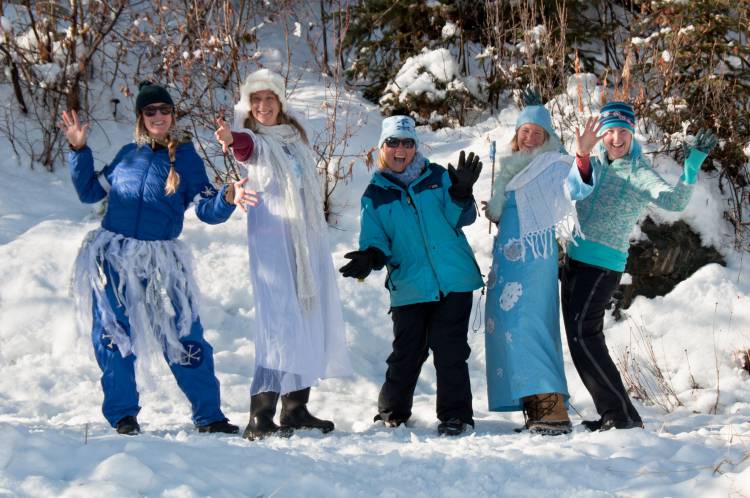 Ayla Bennett is one of the snow fairies who bring Winter Wonder to life. Ayla lives in Fernie and leads Wildsight's Classroom with Outdoors, Winter Wonder, Eco Stewards, Nature Through the Seasons and Know your Watershed. We sat down with her this winter to talk about inclement weather and the "in-between" moments.
Wildsight: There are four mechanisms that animals use to survive the winter: they migrate, hibernate, stay & cope or they are chionophiles. Which strategy would you say you use to cope with Fernie winters?
Ayla: Definitely a chionophile— I love the snow! I enjoy everything about the winter! It is the most magical season, in my opinion. I'm reminded of this magic in many outdoor moments… such as the stark contrast between snow covered peaks and bluebird skies; the sparkling of hoarfrost at sunrise; and fluffy white flakes being chased and caught by excited kids… to name a few.
WS: What is the best part about facilitating Wildsight's Winter Wonder?
A: Watching kids appreciating the magic of winter and having fun outside! Weather is often seen as a limiting factor and a reason to keep kids inside. However, as any outdoor educator or outdoorsy parent will know, kids excel at having fun in "inclement weather" (think: mud puddles). There's a great Scandinavian saying: there's no such thing as bad weather, only bad clothing.
WS: What is your favourite Winter Wonder activity to facilitate?
A: Honestly, my favourite Winter Wonder moments are the times between facilitated activities, when the children are free to explore. There's nothing I enjoy more on field trips then having kids run up to me to babble excitedly about what they just found/saw/heard/realized.
WS: Which animal do you think has the best winter survival skills?
A: Snowshoe hares! They change colour, PLUS they have built-in snowshoes…
Thanks, Ayla!
Find out more about Winter Wonder. You can request a program next year for your K-3 class.