Just over a decade ago, the Marysville Eco Park was a radically different environment. Providing parking for the Marysville Falls tourist attraction, the site was a flat, gravel lot extending right to the water's edge. Sedimentation from stormwater runoff and snow dumping on site added to the cumulative effects of pollution in Mark Creek: effects which included the Acid Rock Drainage that famously turned the creek orange upstream.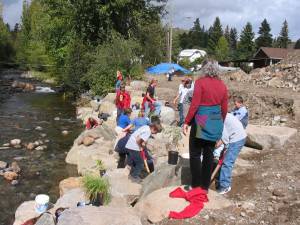 As part of greater efforts to restore Mark Creek, Wildsight Kimberley Cranbrook partnered with the City of Kimberley to transform the lot into a public greenspace in the early 2000s. The team installed rockwork on the streambank to prevent erosion, excavated the lot to create varied topography, and landscaped the site with trees, shrubs and herbaceous plants native to the area. Today, the site is well on its way to becoming a riparian oasis, providing shade for stream temperature control and fish habitat values, stormwater filtration, even habitat for songbirds: over forty bird species were recorded on site this year at the Eco Park. Visitors to the Falls will still find adequate parking on site, but the footprint has become significantly more "green".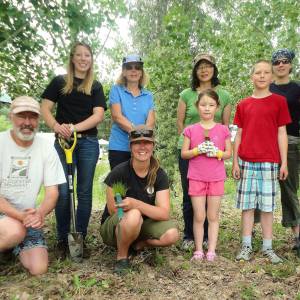 The Marysville Eco Park is Kimberley's own example of urban re-greening: a growing trend in North American cities, large and small. Maintained by the Wildsight Kimberley Cranbrook branch, the contributions of volunteers have been essential to the health and vibrancy of the Eco Park. Over the years, helping hands have helped us tackle invasive weeds and voracious grasses, remove refuse, and mulch and tidy shrub-and-flowerbeds. Thank you to all the volunteers and contributors who help this community greenspace thrive!
Interested in lending a hand to this city re-greening project? Consider attending Wildsight Kimberley Cranbrook's upcoming Spring Cleanup with the East Kootenay Invasive Species Council (EKSIC), or join the volunteer listing on the Eco Park program page.