Protect it. Connect it.
Within the Southern Rockies region lies the Flathead Valley—one of the most biologically important places on earth. This valley is home to a free flowing, transboundary river with exceptional water quality, and is unmatched in North America for the variety, completeness and density of carnivore species like grizzly bears that live and breed there. A key connection for animals moving north and south through the Rocky Mountains, the Flathead Valley is a magical place of great wildness that has never been settled by humans.
Wildsight and its partners in the Flathead Wild coalition are working hard to establish a special land use plan that creates a nature sanctuary and protects Rocky Mountain wildlife connectivity.
The Plan
Designate a National Park Reserve Wilderness Area in the south-eastern one-third of British Columbia's Flathead River Valley, completing the Waterton-Glacier International Peace Park.
Ensure the international wildlife corridor remains functional, connecting Waterton-Glacier to the Canadian Rocky Mountain Parks along the spine of the Rockies.
A comprehensive long-term plan for the entire Elk Valley that reconciles its world-class wildlife and wilderness values with the its metallurgical coal resources, in keeping with recommendations made in the UNESCO 2010 World Heritage Committee report.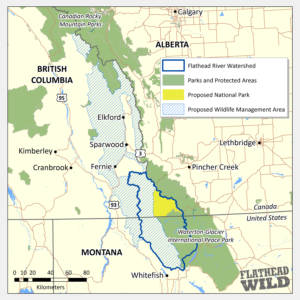 The Flathead Wild Coalition is made up of: Canadian Parks and Wilderness Society, Sierra Club BC, Yellowstone to Yukon Conservation Initiative, Headwaters Montana, National Parks Conservation Association and Wildsight.