As part of the Fernie Museum's Chautauqua Celebrations, Wildsight Elk Valley is once hosting the Fall Fair! We're celebrating with a festival that is as unique as our community. The Fernie Fall Fair is a grass roots public event that encourages people to bridge rural and urban living by promoting agriculture, recreation, household arts, and gardening. It is our goal to showcase healthy, farmstead living and promote the importance and achievability of sustainable food production in the Elk Valley.
Classic carnival games and games will be abundant! Get your team together for tug-o-war, your hopping legs ready for the sack race, find your perfect partner for the 3-legged race, your gums warmed up for a bubble gum blowing contest and more! AND of course get your taste buds ready for the Blue Ribbon competitions — pies, cakes, preserves and bread bragging rights will be contested for. The chili cook-off offers everyone a chance to try the best of the fest (hint, I love cornbread…) and of course Fernie's favourite Sunday event, the Fernie Mountain Market, and its amazing vendors will be providing the best of the harvest for you to take home!
Join us for the fall fair exhibition on the City Hall grounds (501 3rd Ave) where all sorts of fun like potato sack races, farmers market, apple cider demos, cake walk, workshops, chilli cook-off, agriculture demos and so much more will be happening. Keep your eyes open for upcoming info or to get involved please contact Courtney at (250) 423-3322 or email elkvalley@wildsight.ca.
To volunteer please click here! Shifts are short and fun we promise!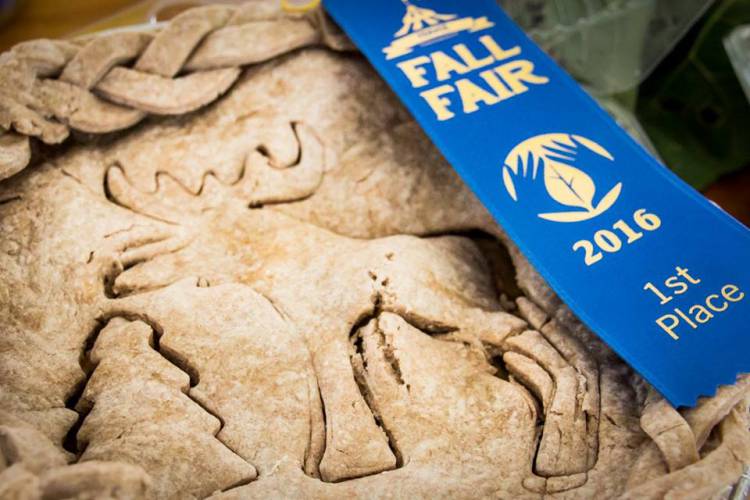 Photos generously donated by Dan Kilgallon
Check out these fun additions to the Fernie Fall Fair!

For the first time we will be having some amazing live music! Make sure to come and see our homegrown talent as they take the Fernie Fall Fair stage located next to the stairs on City Hall.
Hark Raving Sirens at 11am
Rick Miller at noon
Good Valley at 1pm
Challenge your friends, neighbours, coworkers, person passing on the street or whomever to the Great Balls of Fire Chili Cookoff! This is one of our Blue Ribbon events and once all of the chili has been tasted by the judges it is up to you — the people! — to decide on the People's Choice Great Bowls of Fire Chili Champion!
Meat and vegetarian options are up for grabs and please make sure to check out the Blue Ribbon Rules and Regulations for entry details.
Blue Ribbon Entry Rules and Reg Form
Blue Ribbon options abound at the Fernie Fall Fair! For all of you creative types there are Handicrafts and Homeskills categories for felting, knitting, needlework, tole painting, folk art, bouquet-in-a-boot and more! All ages and abilities are encouraged to enter in as many categories as you like. One entry per category please!
Blue Ribbon Entry Rules and Reg Form
Cooks and Canners rejoice! The Homeskills category in the Blue Ribbon event is chock-a-block full of categories, classes and subclasses! Again, all ages and abilities are welcome to enter and I for one cannot wait to sample all of this years fresh, local bounty!
Blue Ribbon Entry Rules and Reg Form
Check out the full schedule below and pencil in your calendar all of the great chances you have to play classic carnival games like Tin Can Alley and Skee Ball as well as show off your skills in Egg & Spoon Races, Sac Races, 3-Legged Races and more! All races and games are ONLY $1.00 to play so it really is a throwback event like the fairs of yore!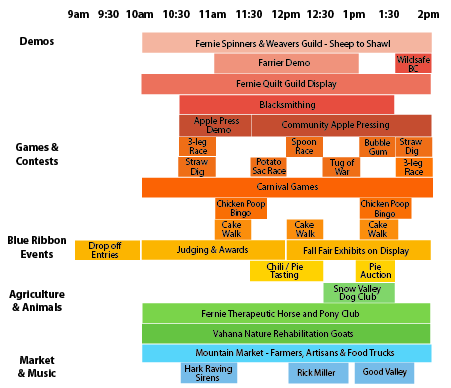 For all things Fernie Chautauqua and a schedule of the whole four days of festivities click here!
Many thanks to the volunteers and organizers who make the Fernie Fall Fair possible! We owe you! And definitely a thanks to our sponsors: the Fernie Museum, City of Fernie, Columbia Basin Trust, BC Hydro, and the Community EcoGarden!
Prizes generously supported by Polar Peek Books & Treasures, The Valley Social, Happy Cow Ice Cream, Coal Town Goods, Madi Bragg and the Elk Valley Homesteaders, Spruce Spring Stream Farms, Isabel Teslak, Linda Livsey, Fernie Brewing Company, and Jean Lloyd.