Explore the wonders of the Columbia Valley with Wild Nature Tours, guided outdoor excursions for all ages and abilities. For locals and visitors alike, a guided hike is a great opportunity to head off the beaten path and explore quiet, hidden spaces. Our local guides include international birding guide Cam Gilles and local naturalist Kalista Pruden.
Wild Nature Tours begin again on June 7, 2017, and offer participants of all ages and abilities the chance to get active outside and appreciate our surroundings. Tours will range in difficulty from family friendly to more physically challenging, and focus on a variety of topics including nature interpretation, native and invasive plant species, and birding.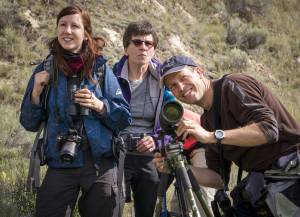 June 7,14,21, 28: Meditations with Nature
June 24: Weaving From the Wild with Shuswap elder Verna Stevens. Make a pine needle basket.
July 14: Wild Food and Medicinal Plants, with Kalista Pruden
Oct. 14: Flycatchers to Nutcrakers: A Birding Adventure, with Cam Gillies
Stay tuned for more, including hiking Jumbo and Brewer, and meditating in the wild! Stay in touch by signing up for our Wildsight Invermere newsletter here.
Wildsight members get 10% off. Memberships are just $20—for life. Become a member today.
All profits from Wild Nature Tours support Wildsight Invermere's conservation and education programmes.