Explore the wonders of the Columbia Valley with Wild Nature Tours, guided outdoor excursions for all ages and abilities. For locals and visitors alike, a guided hike is a great opportunity to head off the beaten path and explore quiet, hidden spaces. Our local guides include Wildsight's environmental educator, Kim Urbaniak, international birding guide Cam Gilles, and award-winning photographer and mountaineer Pat Morrow.
Wild Natures Tours run weekly from June 25 – August 27,and offer participants of all ages and abilities the chance to get active outside and appreciate our surroundings. Tours will range in difficulty from family friendly to more physically challenging, and focus on a variety of topics including nature interpretation, native and invasive plant species, and birding.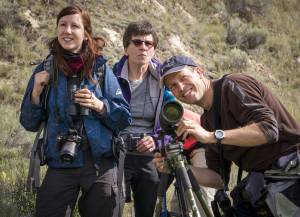 2016 Tours:
Jun. 25: Flycatchers to Nutcrakers: A Birding Adventure, with Cam Gillies
Jul. 9: Fairmont Family Walk, with Kim Urbaniak
Jul. 22: Wetland Wonders, with Suzanne Bayley
Jul. 29: Sense of Place, with Carol Patterson
Aug. 6: Wild Food and Medicinal Plants, with Kalista Pruden
Aug. 12: Grasslands: Lessons on an Undervalued Ecosystem, with Gail Berg
Aug. 20: Animal Tracks and Signs, with Kalista Pruden
Aug. 27: Hike to Jumbo Pass, with Mike Baker and Roslyn Johnson
Sep. 25: Hike to Jumbo Pass, with Mike Baker and Roslyn Johnson
Click here for more information and to book a tour!