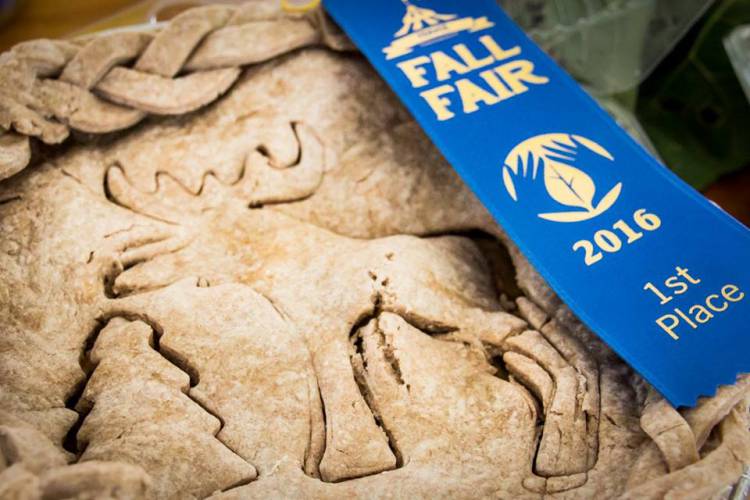 It's back for the third time — the Fernie Fall Fair! As part of Fernie Chautauqua, Wildsight Elk Valley is putting on this fun, family friendly event that is as unique as our community. The Fall Fair is a grass roots public event that encourages people to bridge rural and urban living by promoting agriculture, recreation, household arts, and gardening. It is our goal to showcase healthy, farmstead living and promote the importance and achievability of sustainable food production in the Elk Valley.
Joining us are the amazing vendors from the Fernie Mountain Market who will have their fruits, vegetables, handicrafts and more for you to take home and enjoy! Of and course there are classic carnival games and races for the whole family. 3-legged races, potato sack races, bubble gum blowing, tug-o-war, cake walk and more will be there for you to take on the challenge! Bushel basket ball toss, tin can alley, ring toss and other classic games are sure to keep you entertained and what Fall Fair would be complete without a chili cook-off and Blue Ribbon bakers vie for wins in the pie, cakes, preserves and bread categories. Start warming up your taste buds now!
Stay up to date on all things Fernie Fall Fair on Facebook or contact Courtney at elkvalley@wildsight.ca for more info or to volunteer for the Fernie Fall Fair. Mark your calendars for Sunday, September 17!
NEW THIS YEAR SO FAR: Live music with Good Valley, Rick Miller and Hark Raving Sirens. The Fernie Quilt Guild and the Visual Arts Guild will be putting on a display and fun facts exhibit, and the Snow Valley Dog Club will be joining us!
Mark your calendars for Sunday, September 17 for our Community Apple Press Extravaganza! Pick those trees and warm up your tastebuds for delicious cider to keep you in local, nutritious juice all year round! All you need to bring is apples and jugs and you can leave the rest to us. Apple presses and good times guaranteed!
And of course check our the Apple Capture and Tool Share Programs to see all of the great tools available for your use, register a tree that is need of picking, or stay in the know about local food systems.

Remember to stop by the Community EcoGarden table at Fernie Chautuaqua on September 16th and 17th to get your hands on some beautiful Canada 150 Tulips! These tulips were part of the Canada 150 Celebration Garden at the EcoGarden and they will add the same colour and festive flair to your garden as they did to ours!
Only $10 for 10 bulbs! All proceeds will go towards making sure that the Community EcoGarden remains a valuable asset to Fernie for years to come. Thanks for your continued support!
Join The Community EcoGarden on Saturday, September 16th and Sunday, September 17th at Fernie Chautauqua as they offer for sale some of the gorgeous Canada 150 tulip bulbs from the Canada 150 Celebration Garden that added amazing colour to our community as the tulips bloomed last May! These reminders of Canada 150 are beautiful red, white, or red and white bulbs and can be yours for only $10 for 10 bulbs! Don't forget to pop by the EcoGarden table and pick some up to plant today!