UPDATE: Thanks to the amazing generosity of Fern Marriott she is extending the From Passion to Action matching contribution campaign until April 1, 2017. Please consider donating to Wildsight Elk Valley and help us leverage your dollars into caring for our community and all of its wildlife, water and so much more.
Aren't we lucky to live in this beautiful place? I love living in the Elk Valley surrounded by nature. I feel nurtured by the mountains, clean air and water.
Taking action to care for this place that I love so much has become very important to me. I believe that it's our responsibility to work together to create the community we want to live in—a sustainable community where we are connected to nature and to each other.
In the Wildsight Elk Valley branch, I have found like-minded people who are moved by their passion and are committed to action. I am inspired by what they have accomplished together: projects like the EcoGarden, Bear Aware, Road Watch and Apple Capture, hands-on education programs for kids, water monitoring, invasive weed pulls, local food festivals and markets, and so much more.
So I'd like to ask you to take some time to think about what's most important to you. What I know is that when I give to Wildsight, I give back to the place I love so much. And as a symbol of my commitment, I'm going to match your donations for the Elk Valley – up to $15,000! Your $50 gift will be doubled to $100 to protect wild spaces and build a sustainable community.
Will you join us in taking action to care for this place we all call home?
Sincerely,
Fern Marriott,
Elk Valley Resident
Join us on Tuesd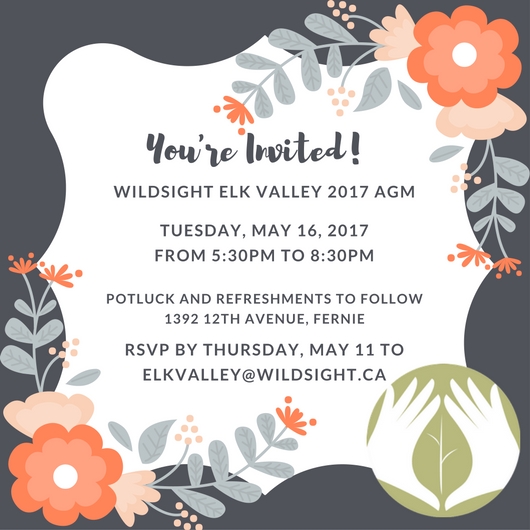 ay, May 16 at 5:30pm for a potluck and refreshments at the home of Sharon Switzer as we look at the successes of 2016-2017 and look ahead to what we can accomplish in 2017-2018.
5:30pm Annual General Meeting
6:00pm Potluck & Refreshments
Wild Nature Tours is pleased to be offering our fun-for-all-ages Winter Snowshoe Safaris! Join naturalist Lee-Anne Walker as she guides you through Fernie's snowiest places all while keeping you moving with colourful stories, interesting facts, fun experiences and most importantly, hot drinks and homemade snacks!
There are three options for you to choose from — FAR Out (at Fernie Alpine Resort), Park Paradise (Mount Fernie Provincial Park) or Sleeping Bear (Island Lake Lodge). Tours range from 2 to 6 hours, are family-friendly and include snowshoe and pole rental.
Wild Nature Tours is a program of Wildsight Elk Valley Branch with the tour proceeds supporting local environmental education in the schools.
For more information or to book a fantastic winter outing please visit www.wildnaturetours.ca or call 250.423-3322.